Baptist Easley names Physician of the Year and Physician of Quarter
EASLEY — Baptist Easley Hospital recently honored David Chang, MD, of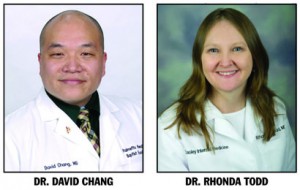 Easley Internal Medicine as the Cam Underhill Practicing Excellence Physician of the Year for 2014. Dr. Rhonda Todd was selected as Baptist Easley's Cam Underhill Practicing Excellence Physician of the Quarter for the second quarter of 2015.
Chang was cited for his caring and compassion. One nomination read: "This physician cares about his patients and treats them as his own family. He has great pride and passion for his practice and Baptist Easley Hospital. He always treats patients and his staff with respect. He delivers the highest accurate diagnosis and has excellent ratings from his patients. He works with other physicians and hospital staff to provide the highest level of care to all patients. He always seeks ways to improve the practice of medicine."
Another nomination for Chang said: "This physician's office is always on time. He is caring, compassionate and extremely knowledgeable. His care is outstanding. He relates well with his patients and is just the best!"
Chang is board certified in internal medicine. Additionally, he was born at Baptist Easley Hospital 42 years ago.
Todd, also of Easley Internal Medicine, was the recipient for second quarter 2015. Todd is board certified in internal medicine.
Todd's nomination from a patient said, "This physician is an extraordinary person and physician. She has labored to keep my costs low since I am private pay. She has worked within the financial and mental lines that I could handle. She has done more than any other physician that I have been to — she listens! She is a remarkable, sincere, caring person that I feel privileged to know. She is an excellent example of the medical field and should be recognized for her work."
The Cam Underhill Practicing Excellence award, given quarterly, honors physicians for displaying the Baptist Easley Medical Staff Standards of Behavior: Integrity, Compassion, and Competence. The annual awardee is chosen from one of the quarterly recipients.