Baptist Easley receives Press Ganey 2014 Beacon of Excellence Award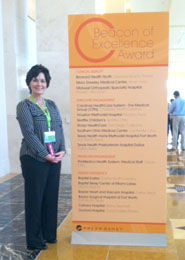 Baptist Easley perioperative services director Sherry Gravely stands alongside the Beacon of Excellence award display at the recent Press Ganey conference in Orlando, Fla.
EASLEY — Baptist Easley has been named a winner of the 2014 Beacon of Excellence Award by Press Ganey Associates, Inc. The Beacon of Excellence Award recognizes top-performing facilities that maintain high levels of excellence in Patient Satisfaction. The award was for patient satisfaction in the Ambulatory Surgery area.
The Press Ganey Beacon of Excellence Award recognizes leading health care facilities that have achieved and consistently maintained excellence for multiple years. The award is given to only 45 organizations per year, representing the top three performing organizations by category. Press Ganey partners with more than 10,000 health care facilities, including more than half of all U.S. hospitals, to measure and improve the patient experience.
"We are proud to partner with Baptist Easley Hospital," said Patrick T. Ryan, CEO of Press Ganey. "Achieving and sustaining such a high degree of excellence reflects the organization's deep commitment to delivering outstanding service and quality. Ultimately, this accomplishment is a bold statement to the community that Baptist Easley provides excellent patient care and experiences."
According to Baptist Easley CEO Michael Batchelor the award represents an important recognition from the industry's leader in measuring, understanding, and improving the patient experience.
This is the second consecutive year that Baptist Easley OPS has received the Beacon Award. The Outpatient Surgery Patient (OPS) Satisfaction Team was formed three years ago. Sherry Gravely, Director of Perioperative Services, remarked, "The satisfaction scores for outpatient surgery improved dramatically with strategies the team implemented and sustained. The engagement of the staff was crucial to the success of all initiatives."