Bee Well Honey's buzz earns it monthly chamber honors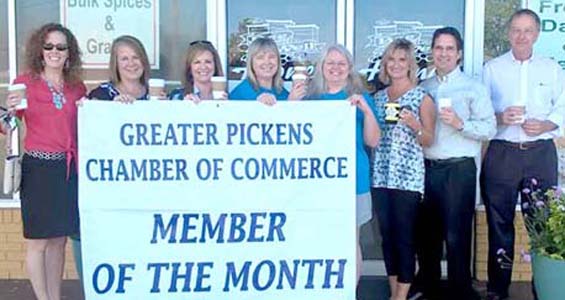 Pickens Chamber of Commerce director Kim Smagala presents the member of the month banner to Jacqueline Gamble, Donna Owen, Charlotte Anderson and Lisa Thomas of Bee Well Honey as chamber board members Liza Holder and Branden Daniels and Pickens city administrator Bruce Evilsizor look on.
PICKENS — The Greater Pickens Chamber of Commerce has announced its most recent chamber member of the month, Bee Well Honey.
"Kerry and Donna Owen have been an asset to our business community in many ways, and we are so thankful to have their passion and expertise here locally," the chamber said in a news release. "Their honey, beekeeping supplies and natural products store have drawn many to our area and continue to do so."
Kerry Owen was recently honored as the S.C. Farmer of the Year.
"To have such talent and vision right here locally is a real treat for our business community, and we look forward to all they have in store," chamber director Kim Smagala said. "The 'buzz' is: Bee Well Honey Farm is expanding the 'Bee Supply' portion of Bee Well Honey Farm Natural Market to 815 W. Main St. in Pickens.
When the work is complete, the Owenses will host all of their beekeeping supplies and all beekeeping needs in this location. The future for the location is to coordinate with Bee Well Bottling and Distribution at 909 W. Main St. (next door) and offer all their beekeeping classes, such as beekeeping boot camp, observation bee hives, candle and soap making events, as well as a space for people to have meetings in the atmosphere of a working honey house.
This expansion, coupled with the Owenses' passion, will put Bee Well Honey as an integral part of agra-tourism for the city and the county of Pickens.
Those looking to join or find out more about the Pickens Area Chamber of Commerce may drop by the chamber office at 222 W. Main St. in Pickens, call (864) 878-3258 or visit pickenschamber.net.