'Better not miss'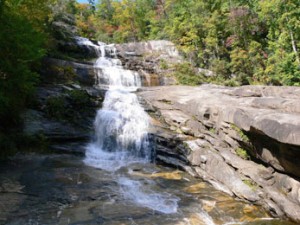 Although lives have been lost on the treacherous yet awe-inspiring Half-Mile Falls of the Thompson River, Pickens County Courier contributor Dr. Tom Cloer and his friends and family have escaped major peril in a series of mishaps in the area over the years. According to Cloer, the falls, more commonly known today as "Big Falls," are unmatched in majesty and grandeur in the Jocassee Gorges.
Photo courtesy carolinawaterfalls.com
A series of mishaps near
Half-Mile Falls
By Dr. Thomas Cloer, Jr.
Special to The Courier
My dad, Carl T. Cloer, Sr., grew to adulthood in Jackson County, N.C. There were 13 members of his family and two orphans whom my Grandma and Grandpa Cloer raised during the Great Depression. Dad helped supply the table fare with his hunting and fishing. He caught trout in every major river now flowing into Lake Jocassee and from every tributary of the rivers. In autumn and winter, he supplied groundhog, squirrels, ruffed grouse, raccoons and a few deer and wild turkeys. There was one river that Dad favored, and he passed his love forward to his sons and grandsons. That river was the mighty Thompson River.
The Thompson originates in Transylvania, N.C., and meanders, crashes and explodes through the most scenic gorge of Southern Appalachia, the Thompson River Gorge. We are blessed in the Jocassee Gorges with a myriad of beautiful, majestic waterfalls. However, none, not even Whitewater Falls, can match the majesty and grandeur of the Half-Mile Falls of Thompson River.
You ask, "Then, why haven't I heard of them? I've lived here all my life." Because of the remote location in the dangerous Thompson Gorge, few cameras have ever been to the site. The natives and locals named the mighty spectacle "Half-Mile Falls." Only recently have I seen the name "Big Falls" of Thompson River. In honor of my dad and my Uncle Bob Cloer, my descendants and I will always refer to this grand, creative act of the Great Spirit as the Half-Mile Falls.
Because of my family's long love affair with such a beautiful, secluded and grandiose trout fishery, I write now with reluctance. However, my brother, Nat, and I, now in our seventies, realize how close Dad and both of us have been to potential serious harm in the Thompson Gorge. We likely will never try to fish the Thompson Gorge again. We urge extreme caution as we explain about some of our mishaps, and as we release all of our secrets about the best trout fishery left in the Southern Appalachian Mountains.
First Mishap
Let's travel back in time to the 1930s. My dad was in his early twenties. His brother, Bob, was in his late twenties. Both lived in Jackson County. They would go to Thompson River from the north, off North Carolina Highway 281. This highway travels across the headwaters of the Whitewater, Thompson and Horsepasture Rivers. Dad and Uncle Bob would fish down Thompson to the Half-Mile Falls, go way around and under them, and fish back up over the falls following the river channel.
After going so far up the face of the falls, there is no turning back. The main chute at the top of the falls is hidden behind a curve. Dad and Uncle Bob would always climb up an enormous hemlock log with giant broken limbs that had been put in place in the chute by a flooding of the river. I often see such spectacles now in some of the big rivers. The log was to the side of the river chute. They would climb the log to the top, grab hold of a rhododendron and pull themselves to safety. Of course, they never fished near this when they thought a thunderstorm was possible.
As usual, the fishing this day was fantastic, and Dad and Uncle Bob had caught some beautiful trout. They went past the point of no return up the Half-Mile Falls, and reached the chute at the top. To their absolute horror, the hemlock log was gone! It had been dislodged by high waters.
"We'll have to stay here until someone comes looking for us," Dad said in a very worried tone.
"When will that be?" Uncle Bob asked. "And who would come here?"
"We're dead if we try to go back down," Dad reported.
"I'm not considering that. I know that's impossible from here," Uncle Bob said.
Uncle Bob was accustomed to taking the lead since he was the older of the two.
"Carl, I believe I could jump and stick to that slick rock long enough to grab that doghobble branch, and then grab the laurel," he said in a hopeful tone.
"For God's sake, Bob, what if you miss?"
"Better not miss!" Bob called as he ran and jumped for their lives. He stuck to the rock face like a tree frog and grabbed the doghobble, then the laurel. He dangerously hoisted himself to safety. After finding a very long, stout pole, he eased the pole down, and Dad pulled himself to safety. After they were safely off the face of the falls, Dad said, "Bob, let's shake hands never to do anything this crazy and dangerous again."
Bob chuckled, "I'll shake on that." And they did.
Second Mishap
A fellow, who will remain unnamed, asked me if I would accompany him to the Half-Mile Falls. I spoke to him then of how my dad and Uncle Bob had encountered such difficulty, and how dangerous the falls were. I agreed to go and told him we would go to the Bad Creek hydroelectric site, and then go through its gate to the parking lot for the Foothills Trail. We would take the Foothills Trail toward the Whitewater River. We would cross the Whitewater going east and travel to where the trail crosses the mighty Thompson. We would camp overnight there and start upstream at first light, following the river channel toward the Half-Mile Falls. We would fish as we go, clean our fish at the base of the falls, pack them in rhododendron leaves, and make our way back down to the trail following the river channel.
The fishing was phenomenal. We caught beautiful brown and rainbow trout. They always grew larger in the Thompson. After going about a mile and a half upriver from our camp, I heard the eerie, unmistakable sound.
"You hear that?" I called in childlike enthusiasm. "Those are the Half-Mile Falls you hear! There is paradise up ahead! You are about to encounter the most majestic spectacle you will ever behold in your lifetime."
I always felt an emotion somewhere between outright astonishment and ecstasy when I beheld those falls.
"We'll clean our fish, eat a snack, take a few photos, and then head downstream, wading and swimming our way back to the Foothills Trail." I told my companion. "Remember, there is a point of no return up the falls. They are very deceiving."
I finished cleaning my fish and looked around to see where my fellow traveler was. My heartbeat accelerated when I looked up on the falls and saw he had passed the point of no return.
He looked at me and I waved my arms and screamed, "Sit down! Sit down! You can't come back."
The fellow started inching back down, but gravity quickly took hold and he was running before flying through the air. He was going over cliffs and out of my eyesight on the left side of the massive falls. I had to work my way down and around to the area where he landed. I was wondering to myself how to get help and retrieve his body. When I reached a point where I could see the place he likely landed, there were numerous gigantic boulders in deep holes of still water. I perceived one area bubbling, and saw the fellow raise his head from the water!
"Are you hurt?" I called.
"I don't think so! I jumped blindly and happened to hit here! I knew if I jumped toward you I was dead."
Suffice it to say that I did not ever guide anyone again to the Half-Mile Falls.
Third Mishap
Another way to approach the Thompson is from Lake Jocassee. On this particular trip, I had agreed to meet a fellow at the mouth of the Thompson River. We agreed to fish up to the Muster Ground Road and then travel it back toward the lake, and then down a leading ridge to our boat. As I put my boat in at Devil's Fork and went around past the mouth of the Whitewater River, I thought about how this all looked when my ancestors owned much of this. My great-great-great grandfather owned much of what is now Devil's Fork State Park.
At the mouth of the Thompson, my associate and I headed upstream to some of the most amazing sights in the Jocassee Gorges. I let him fish in front, and I was meandering about waist high in the river when a huge rock shifted and pinned my knee against another rock too big for me to move. The more I worked, the harder the big rock pinned me! I have caught trout for 65 years; I cut my teeth on river rocks. Never have I been in a worse predicament. I called for my associate to come help me. We tried unsuccessfully for him to try to push the big rock. We studied how we might use a strong pry pole to budge the rock. I was afraid it would tighten more, but my rescuer found just the right oak pry pole. He heaved and the rock moved just enough for me to drag a badly bruised but unbroken leg from a most precarious position.
I would have been in serious trouble without capable assistance.
Fourth (and Final?) Thompson Mishap
My brother, Nat, and I fished the Thompson River another way for several years. The Muster Ground Road of the Jocassee Gorges crosses the Thompson River about half-way between Lake Jocassee and The Foothills Trail. The Muster Ground Road has been open for years during spring turkey season and fall deer hunting. My brother and I would access the Muster Ground Road through the Bad Creek hydroelectric site. The Muster Ground Road begins at the Foothills Trail parking lot. We would cross over Whitewater River and drive to the Thompson. We would then park and walk back down the road until we dropped over several stages of waterfalls and would fish back up to the Muster Ground Road. What fishing we encountered! I can remember the wonderful trips when we would grand slam and catch all three species of brook, rainbow and brown trout.
On this particular trip we had caught beautiful trout as we approached the last major waterfall before reaching the Muster Ground Road. This waterfall has a gigantic boulder at its very top. I am smaller than my brother. Near the top of the waterfall, one must pull up by using a doghobble branch. I grabbed the branch, heaved myself up, and headed to the next pool. I was fishing away when I heard my brother call. I looked and he was writhing in pain near the river chute at the head of the falls.
When I hurriedly, but cautiously, maneuvered to him, he said "The doghobble pulled up when I grabbed it. I fell and landed here full force on my leg."
I winced when I saw the badly damaged leg.
"Nat, I'm afraid your leg is broken," I said as calmly as I could.
His leg was a strange dark color that extended from his calf to his hip.
"It's badly damaged, but I think I might can make it to the truck," he said.
I helped him to his feet and to safety above the chute of the falls. We were both glad to see his vehicle.
That was seven years ago. I asked him the last time I saw him how his leg was. He raised the leg of his pants and showed me the hematoma! Although reduced in size, it was still most evident after seven years.
Conclusion
As Nat and I drove back past the Foothills Trail parking lot the day he hurt his leg, I said to him, "I can remember us catching trout together 58 years ago. I especially remember when you wanted to fish with two flies at once with one at the bottom and a dapper on top. I remember several times when you would have a trout hooked and he would thrash around and another trout would hit the empty fly. When they swam in opposite directions, it made for an interesting event. Do you suppose 58 years of this is enough?"
"I don't know Tom," he said. "Let's see how this leg does."
It wasn't our last trip.
About the author: Dr. Cloer was the first faculty member in Furman University's history to receive both the Meritorious Teaching and Meritorious Advising Awards at commencement.