Betty Bagley to run for District 1 Pickens County School Board seat
Pickens — Retired Anderson District 5 Superintendent Betty Bagley filed to run for the District 1 seat on the School District of Pickens County's Board of Trustees.
Bagley, who retired from District 5 in 2013,hasan extensive professional background in education, and she looks forward to the opportunity to use that experience and enthusiasm to move Pickens County ahead in all aspects of learning and professional advancement. She is a staunch advocate of Transform SC, having served as a field director for the program that promotes "world-class knowledge" and "world-class skills" for all children in South Carolina. The program supports rigorous standards in language, math, and STEM as well as the arts and social sciences and it champions efforts to incorporate innovation, critical thinking skills, collaboration,and access to cutting-edge media, technology, and communication platforms into every public school classroom.
"Throughout my career, I have always paid very close attention to what surrounding school districts were doing—I've observed their challenges and successes. Pickens County has so many opportunities, but it's been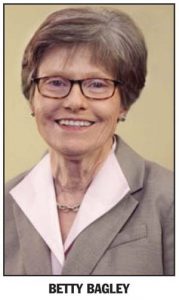 unable to seize them," Bagley said. "I look forward to working with our elected and appointed officials so that we can make public education in Pickens County the most progressive, outstanding education in South Carolina."
Bagley now works for the South Carolina State Department of Education as a personalized learning consultant, and she is an adjunct professor at Anderson University. She and her husband, longtime Clemson athletics statistician Sack Bagley, live in the Patrick Square community. Bagley grew up in the small town of Norris, where she attended Norris Elementary and eventually graduated from Liberty High School.
Bagley is currently a PhD candidate in educational leadership at Clemson University, and she holds numerous degrees including her B.A. from Southern Wesleyan in Central, a master's of education from Clemson University and two education-related degrees from The Citadel.
Bagley's notable appointments include the Performance, Accountability and Standards for Schools (PASS) Commission by Governor Beasley (1997) and the First Steps Readiness Board by Governor Hodges (1999). She was appointed by two state superintendents of education to serve on the Palmetto Unified School District Board of Trustees and she currently serves as Governor Nikki Haley's appointment to the South Carolina Public Charter School Board.
She was the recipient of the William B. Harley Lifetime Achievement Award, presented by the South Carolina Association of School Administrators and the R.L. Bryan Co. to education leaders as exemplars of education leadership.
Bagley serves on multiple task forces and nonprofits boards around the state.