Betty Garrison to run for District 5 seat on Pickens County School Board
Pickens — Retired Easley High School principal Betty Garrison has filed for the District 5 seat on the Pickens County Board of Education after announcing her plans to run last month.
Current District 5 Trustee Judy Edwards has decided not to seek re-election.
"A retired educator and tireless public servant, Edwards has served our community with integrity, and I am grateful for the work she has done," Garrison said. "I share that experience of serving as an educator to our young people, and I believe it has prepared me to contribute and lead at the school board level."
Garrison is a lifelong educator and longtime resident of Easley. She received her undergraduate degree from Mississippi College and she has two masters degrees: a masters of education from Clemson University and an M.A. in secondary school administration from Furman. She also attended the South Carolina School Leadership Executive Institute.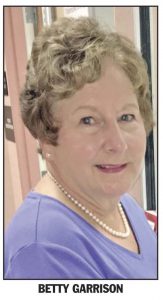 Garrison is active in many civic- and service-oriented organizations. She attends Easley First Baptist where she currently serves on the Stewardship Committee. She also serves on the Pickens County Foster Care Review Board, an appointment that ends in 2018. She is active as a Juvenile Arbitrator with the 13th Judicial Circuit, she sits on the Baptist Easley Hospital Foundation Board, and is active in the Rotary Club of Easley (she is past president) and the United Way of Pickens County Women's Leadership Council.
Garrison is married to Jim, a graduate of Easley High School and a retired Carpentry Instructor at Pickens County Career and Technology Center. Her sons Brad and Brian (married to Crystal) are also graduates of Easley High, and she and Jim have two grandsons.
"The School District of Pickens County has quality facilities, outstanding teachers and administrators, and high-achieving students," Garrison said. "But there is work to be done to improve the image of the School District of Pickens County so that its reputation is consistent with our high-caliber educators and offerings."
Garrison's education career began as a home economics teacher at Easley High School in 1976, and since then, she has worked in many classroom and administrative roles, including as a guidance counselor, curriculum assistant, assistant principal, and finally as principal of Easley High from 2002-09. She has also worked as a GED instructor at the SDPC Adult Learning Center.
"I have sought the prayers, wisdom, and advice of family and friends regarding the decision to run for the District 5 seat on the Board of Trustees for the School District of Pickens County," Garrison said. "There are so many reasons to serve our school district, approximately 18,560 — the 16,560 students and 2,000 employees."