BHSPC Youth Board take part in Leadership Training
COUNTY — On Aug. 12-14, the Behavioral Health Services of Pickens County Youth Board participated in its annual Leadership Training at Bonclarken Conference Center in Flat Rock, N.C.
Ernie Dandeneau, chairmen of the Board of Directors at Behavioral Health Services of Pickens County had this to say about the training, "The Prevention Department of BHSPC completed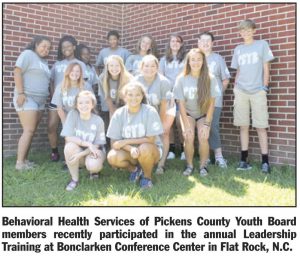 another successful young adult leadership training to teach them how to spread the word to youth across the county about the negative impact of narcotics, prescription drugs, alcohol, and tobacco on their lives and others. These young adults play a key role in the prevention and education of Pickens County youth for BHSPC."
This year, the Pickens County Youth Board has adopted the model of One Voice Youth Empowerment from Dover Youth2Youth in Dover, New Hampshire. This model helps to train student leaders to gain knowledge about substance abuse, acquire skills such as public speaking, and then take action to combat the misuse and abuse of alcohol, tobacco, and other drugs. Youth Board members began training in this model over the course of the weekend, and training will continue throughout the entire school year. Members also enjoyed several guest speakers throughout the weekend including Raven Magwood, local author and motivational speaker, who spoke to the students about the "3D's of Success" and David Griffin who spoke to students about his career in Law Enforcement. Other guest speakers were brought in to teach a class on prescription drugs, marijuana, alcohol, and tobacco. A panel of past Youth Board members were brought in to speak to current Youth Board members about how important the program was to them and how it helped them throughout college and into their professional careers. Students were broken up into groups and researched data from surveys done in their schools to choose a substance that their group wanted to try to tackle. Students made excellent plans to address these issues in the future. Youth Board member, Aleah Gramblin, had this to say about the training, "It only took me all of three days to gain the wisdom of four years. The Youth Board Training really helped me grow as a person inside and out while also allowing me to meet great new people."
The Pickens County Youth Board consists of 20 middle and high school students from across Pickens County. They are: Juan Burgess, Ashley Clark, Krista Just, Savannah Perry, and Reagan Turner from Pickens High School; Julia Dandeneau, Aleah Gramblin, Jordan Hendrix, Quentin Kominiarek, and Makenzye Patterson from Easley High School; NaAdrian Mayes from Gettys Middle School; Britton Blackwell and Cal Finley from Liberty High School; and Skylar Grant, Victoria Hudson, Mac Kerswell, Fiona Newell, Kay O'Roy, and Alexis Willis from Daniel High School. Others present for the Leadership Training included Cathy Breazeale, Director of Prevention Services; Jessica Gibson, Youth Board Coordinator and Prevention Specialist; Alexander Dukes, Prevention Specialist; and Ryan Breazeale, College Staff. For more information about Youth Board or how your teenager can get involved in taking a stand for substance abuse prevention, call Jessica Gibson, Youth Board Coordinator at (864) 898-5800.