Big cats battle as Lions head to York
By Rocky Nimmons
Publisher
rnimmons@thepccourier.com
CENTRAL — With two weeks to prepare, the Daniel Lions are putting the finishing touches on their game plan for Jeff Fruster's first playoff game as the Lions' head ball coach.
Fru's crew will make the almost two-hour drive on Friday to face the York Cougars in round one of the 2016 Class 4A football playoff.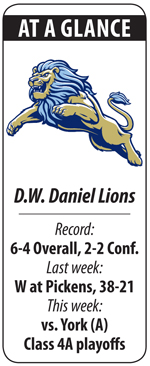 "York's record is not indicative of their level of play," Fruster said of Daniel's opponent this Friday night.
Fruster said the Cougars have played some stiff competition.
"Their offensive line is big and aggressive, and they have many players playing both ways," he said.
Fruster said York quarterback Ethan Mitchell is very elusive, has a big arm and can throw the ball a mile.
"He can win with his legs or arm," he said.
At running back, the Cougars have two big ones. Fruster said Tyquan McCary (5'10″, 230 pounds) is a big and physical runner. Fruster also added that all the Cougar receivers are fast and can stretch the field, so the Lions' secondary will have to play its best to keep them in check.
"On defense, the defensive line is big and physical." Fruster said. "Defensive end Shamari Williams (6'6″, 231) is tall and athletic and has presented problems for many teams this year. York's inside linebackers are strong and physical, and the unit as a whole is good at stopping the run."
Fruster added that the Cougars' secondary is used to playing and is capable of playing man coverage.
"Jae'vion Matthews (6'1″, 176) is tall, and Joe'terrious Wade (5'8″, 160) is fast and both cover well," Fruster added.
The Lions finished up as the third-place finisher in Region I-4A with a 38-21 win over Pickens two weeks ago. The win ensured the Lions of a winning season, but once again turned them into road warriors for playoff action.
"It will be a long trip, but you know we have had them before," Fruster said.
The Lions have fared well on the road this season, posting a 3-2 record. The Lions defeated Pickens, Seneca and Ninety Six all on the road this season, while falling to Greer and Wren away from home.
Rex Brown/Courtesy The Journal                Linebacker Jake Venables and the Daniel defense will have their work cut out for them Friday night when they travel to York to open the Class 4A playoffs.
York enters the game with a 5-5 mark on the season, but the Cougars had a 4-1 region record, finishing second in Region III-4A. The season didn't start out as the Cougars would have liked, with York dropping four of its first five games of the season. York lost to Rock Hill (49-34), Union County (23-13), Nation Ford (28-26) and Clover (25-22). York's lone victory before region play began was a 49-39 win over Fort Mill.
The Cougars though showed great resilience as region play got underway by turning their season around and going 4-1 with victories over Richland Northeast (41-14), Ridgeview (28-21), Lancaster (35-14) and Westwood (10-8). The Cougars' only loss came to the powerful South Pointe Stallions in a lopsided 42-7 affair.
For the Lions to win and advance they will have to win the turnover margin, Fruster said.
"We have to sustain drives and put up as many points as possible," he said. "Defensively, we have to stifle their passing attack and keep their running game in check. We have to limit the output of their stars on both sides of the ball."
The Lion faithful have a rich history of traveling well to support their team. Fruster and staff want that tradition to continue as the Lions head to York on Friday.
Rex Brown/Courtesy The Journal
Daniel's Kiandre Sims carries for a big gain against Ninety Six on Oct. 6.
"Despite the long drive, we need all the fans to come and pack the stands," he said. "The team usually performs better with a large following.
"We need to make it feel like a home game for us. I would appreciate and encourage all fans to come out and support us."
Kickoff is set for 7:30 p.m.