Big League World Series coming back to Easley later this month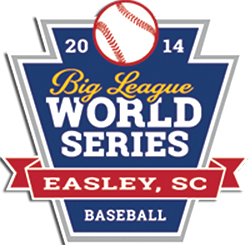 EASLEY — The host team has been announced, and plans are heating up for the 2014 Big League World Seiers, set to kick off later this month in Easley.
The series, to be held at the J.B. "Red" Owens Complex in Easley for the 14th year in a row, will officially kick off with a Fan Fest on July 22. Games will be played July 23-30.
Trying to win its first series crown since 2007 against teams from around the country and the world, the S.C. District 1 host team will feature three county players in Daniel's Christian Cain and Easley's Brandon Hood and Casey Woody.
Others on the team include Grayson Bailes (Laurens), Zach Biggers (Walhalla), Jacob Childress (Ninety-Six), Doug Gressly (Wren), Blake Holliday (Belton-Honea Path), Adam Hill (T.L. Hanna), Thomas Jones (Laurens), Tanner Mack (Wren), Matthew Mulkey (Emerald), Sheldon Reed (Emerald), Dax Roper (Belton-Honea Path), Cody Smiley (Laurens), Dylan Southerland (Belton-Honea Path) and L.T. Tolbert (Wren).
The Fan Fest will feature a home run derby and team walk and will wrap up with a concert featuring up-and-coming country music group Chasin' Crazy.
Chasin' Crazy will be performing some of its hit songs, including "That's How We Do Summertime." The five-member group recently performed at the CMA Music Festival in Nashville, Tenn., and has drawn comparisons to The Eagles, Little Big Town and Zac Brown Band.
"Fan Fest gives visitors a great opportunity to enjoy a fun night out and interact with the teams — including taking pictures with and receiving autographs from potential future Major League Baseball players," tournament director Jon Humphrey said. "It's the perfect start to a week of exciting, world-class baseball."
The home run derby will begin at 6:30 p.m., followed by the team walk at 7:15 p.m. and concert at 8 p.m.
While Fan Fest is free and open to the public, tournament daily and Championship game passes are available for $5 for adults and $3 for students. Weeklong passes are available for $30 for adults and $15 for students. Children younger than 5 years old are admitted free.
For more information, visit www.bigleagueworldseries.com.