Big League World Series underway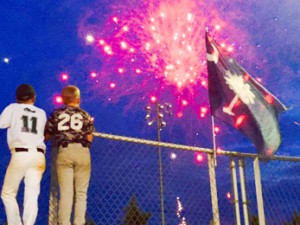 Bridget Scott/Photo
Cousins Preston Scott and Landon Howell watch the fireworks display after the home run derby during the kickoff of the Big League World Series at the J.B. "Red" Owens Complex in Easley on Monday night. Scott and Howell play for the Carolina Crocs 9U team in Easley.
EASLEY — Baseball players from around the world are in Easley this week for the Big
League World Series.
The tournament, in its 15th year in Easley, kicked off Monday with a Major League Baseball Scouting Bureau workout session open to the public at the J.B. "Red" Owens Complex, followed by a home run derby.
[cointent_lockedcontent]Easley's own Casey Woody of the S.C. District 1 host squad took first place in the home run derby, while John Glenn of the U.S. West team was runner-up.
The tournament, which features international teams from Mexico, Puerto Rico, the Netherlands, Canada and Chinese Taipei in addition to U.S. teams representing the West, Southwest, Southeast, Central and East regions, as well as the S.C. District 1 host team, will run until Tuesday, when the championship game will be held at 7:30 p.m. and be televised on ESPN2.
The tournament is breaking in a new double-elimination format this year. A full schedule can be found on page 5A.[/cointent_lockedcontent]