Blue Flame offense struggles at Liberty
By Eugene Jolley
Courier Sports
ejolley@thepccourier.com
LIBERTY — It was red, white and blue night Friday as Liberty hosted Pickens in a game honoring our nation's military, past and present.
[cointent_lockedcontent]But the Flame saw plenty of Liberty red and white and left feeling extra blue, falling 24-14.
It was Liberty's second win in the last three seasons and third in the last six years against the Blue Flame.
Pickens couldn't get anything going offensively, failing to get a first down until late in the first half. By that time, Liberty had built a 17-0 lead.
Penalties and negative plays kept the offense sidetracked for much of the night.
"We stayed backed up the whole first quarter," Pickens coach John Boggs said. "Terrible field position — the only way to get out of bad field position is to get first downs, and we couldn't do that. We stayed behind the chains most of the first half."
Liberty took a 2-0 lead when defensive end Jacob Herman tripped up Pickens quarterback Tanner Stegall in the end zone on third and nine.
The Red Devils then kept the good field position, driving 41 yards in eight plays, capped off by Cavaugio Butler's one-yard touchdown run. Liberty then went for two, and Nick Reeves hit Seth Dove
r on the pass, making it 10-0 with 1:42 left in the first quarter.
Stegall was later picked off by Kevon Tabron.
Liberty went up 17-0 with a six-play, 67-yard drive. Reeves hit Tabron for 32, and a facemask penalty was tacked on. Clay Lollis scored from a yard out with 6:37 left in the half.
The Blue Flame finally got a first down as Stegall hit Robert Jones for 20 on their ensuing possession. On the next play, Stegall found Daniel Hooper behind the secondary for 56 yards down to the Liberty 1-yard line. Bryson Capps, from the left halfback position, took it the final yard with 3:19 left in the opening half. Dylan Banyard's kick made it 17-7.
Liberty came right back and was threatening for another score when Blue Flame safety Jamal Blythe picked off a Reeves pass at the 15 and returned it to the Liberty 35. Pickens kept the drive alive on fourth and two as Kyle Day fumbled while he was being stopped and Stegall picked it up and ran four yards to move the chains. Three plays later, and with time running out, Stegall hit Cole Stewart on a quick slant, and the side judge ruled he had eclipsed the plane of the goal line with 1.3 seconds left in the half.
"We finally generated a little something there at the end of the half and got back into it," Boggs said. "That'
s one thing about these kids is that they'll battle every single week and they'll fight hard, scrap and claw whatever they have to do to try and win. We keep knocking on the door. We've got to find a way to knock it open at some point."
Liberty got the ball to start the second half and once again a penalty — this one a facemask — gave the Red Devils tremendous field position. Liberty capitalized, going 42 yards in 10 plays, converting on fourth and two at the 22. Three plays later, Tabron took a pitch and busted up the middle for a touchdown from 19 yards out, making it 24-14 with 7:49 left.
Two series later, the Blue Flame threatened as Stegall scrambled for 20 and Day ran for 20 and 16 down to the Liberty 24. But the drive ended after Stegall was sacked and his fourth-down scramble came up short.
"We couldn't protect our quarterback, and they did a good job of bringing pressure," Boggs said. "We didn't do a good job of protecting him at all. We've got to get better there."
The Blue Flame downed a Stone Prince punt at the 1-yard line and looked to keep the Devils there on third and eight when Hooper dropped an interception. On the play, Pickens was called for hitting a defenseless player, keeping the Liberty drive going.
"It's called a defenseless player," Boggs said. "The ball was tipped, but they said we hit a defenseless player after that and it was a personal foul. It kept the drive alive, but then we turned around and stopped them but it cost us time off of the clock."
Capps stopped the drive as he picked off a pass and returned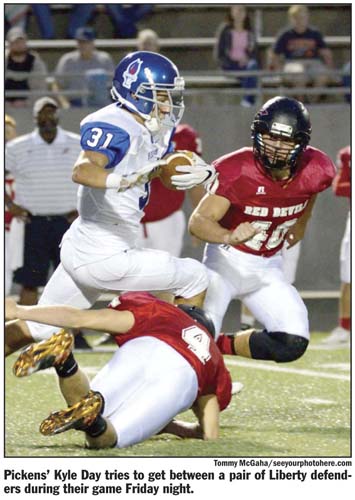 it to the Liberty 16. But the offense couldn't take advantage, as Day lost yards on first down and Stegall was sacked on second and fumbled on third down.
"We got a little drive in the end of the third quarter and couldn't punch that in. Two trips to the red zone could have been a different outcome. You've got to be able to score points," Boggs said.
Pickens got the ball back after holding on fourth and one as Cole Seaborn and Lenny Russell came up with the big stop.
But the Red Devil pressure was too much, and Pickens receivers dropped two passes in sealing the loss.
Pickens played without senior Sam Lawson, out with dehydration. The Blue Flame also lost tailback Brandon Batson to an injury after the first series.
"We're hoping for better news," Boggs said of Batson's injury. "We're hoping to get Kirk-
land (Gillespie) back in a few weeks. It kind of depends on how he progresses with his rehab. We're looking to have him back in full pads in a few weeks and back on the field in a few more. He got a good report this week. Sam should be back next week. A week of being dehydrated really zapped him. It was more precautionary than anything else."
Pickens (0-3) will host winless West-Oak Friday night before having an open date.
"We've fought hard all three weeks and been in games," Boggs said. "Offensively, we've got to get better and score some points. Our defense has been playing hard. I thought we were a little better tonight on special teams more than we had the last couple of weeks. We'll take the positives from it and try to get better. It was a young and inexperienced team when we started, and they're still young and inexperienced and they're learning each week. We'll keep working and try to get better."[/cointent_lockedcontent]