Blue Ridge Electric announces 'Bolts Of Brightness' recipients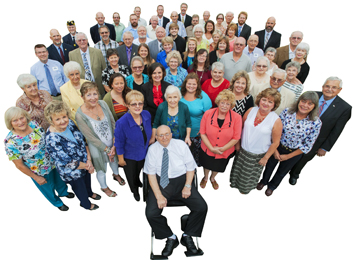 Recipients honored at anniversary event
PICKENS — Blue Ridge Electric Cooperative Inc., a member-owned, not-for-profit electric distribution utility that serves more than 64,000 customers in the Upstate, recently celebrated their 75th anniversary by naming 75 members of the local community as "Bolts of Brightness."
[cointent_lockedcontent]The recipients were honored on Sept. 10 at the Madren Center in Clemson.
"Bolts of Brightness" was established to recognize members in the local community that embody the spirit of the cooperative's mission. Blue Ridge Electric Cooperative opened nominations to Blue Ridge members and selected 75 individuals who have volunteered personal time to serve others in the community. In addition to being recognized with an award at the 75th Anniversary event, honorees were given $500 to be donated to a charitable organization of their choice.
"There was not a better way for Blue Ridge Electric Cooperative to celebrate our 75th Anniversary than to honor our local heroes for their service in our community," said Charles Dalton, President and CEO of Blue Ridge Electric Cooperative, Inc. "We were thrilled to be able to recognize these individuals with a special event and celebrate their work in the Upstate."
Award recipients listed by area:
Anderson:
Blake Berry, Manella Calhoun, Lee Halleck and Mr. and Mrs. Doug Palmer.
Cleveland:
Mr. Avery Leroy Ashe, In Memory of Alice Hall Lawton and Anna White.
Easley:
Philip Owens, Patricia Underwood, Mr. and Mrs. Frank Hamilton, Shay Hardin, Meg Leatherwood and Anita Richardson.
Fair Play:
Larry Wilkerson.
Landrum:
Dave Schaub, Billy Lee Herman and Jeanne Moore.
Liberty:
Chuck Baker, Deanna Counts and David Moody.
Marietta:
Kenneth Curtis and Rollan Green.
Mountain Rest:
Joseph Jones.
Pickens:
Esther Corn, In Memory of Theron Crenshaw, Sam C. Dunn, Sharon Durham, Teresa Johnson, Betty McDaniel, Gary Monroe, Butch Morris, Kevin Nicholson, Judy Rackley, In Memory of Regina Reece, Bart Turner and Justin Anderson.
Salem:
Marti Jennings.
Seneca:
Jenna Black, Dwaine Eubanks, Sam Thrift, Tom Thrift, Helen Westmoreland, Cheryl Brewer, Toni Brewer, Donald Gilstrap, Gwen McPhail and Ronnie Williams.
Six Mile:
Jimmie Haynes.
Tigerville:
Patty Snyder.
Townville:
David Blizzard, Albert Steven Hartsell, Jr. and Debbie Ann Sloan.
Travelers Rest:
Ann Trammell.
Walhalla:
Mr. and Mrs. Jack Arve.
West Union:
Martha Frady and Mr. and Mrs. Lewis McMahan.
Westminster:
Olivia Adams, Brian Allen, Vernon Bacher, Jean Carter, Darragh Geist, Paul Graber, In Memory of Shirley Hawkins, Jason Moore, Tim Nix, Lynn Owen, Evelyn Phillips, Kim Richardson, Mildred Spearman, Linda Stone and Mr. and Mrs. L.J. Jones.
Williamston: Chris and Jim Wilson.
To learn more about Blue Ridge Electric Cooperative, Inc. and the communities it services, visit blueridge.coop/.
[/cointent_lockedcontent]