Blue Ridge Fest set for Friday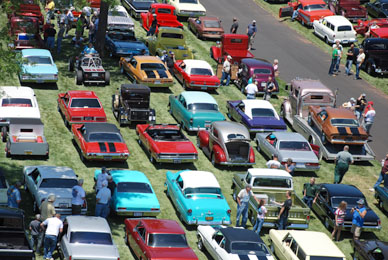 The annual Blue Ridge Fest will kick off Friday with the largest classic car cruise-in in the Upstate.
PICKENS — The 17th annual Blue Ridge Fest will be held this Friday night at the Blue Ridge Electric Cooperative headquarters in Pickens.
Boasting the largest classic car cruise-in in the Upstate, along with a beach night show and dance, the festival will feature Lloyd Price, The Tams and Jim Quick and Coastline.
Last year, the festival attracted more than 6,000 people and raised more than $183,000 to benefit local non-profit organizations in Pickens, Oconee, Anderson and Greenville counties.
Since 1998, Blue Ridge Fest has donated nearly $1.6 million to numerous agencies in the Upstate area that provide individuals with basic necessities such as food, shelter, clothing and health care. This year's recipients include Developmental Center for Exceptional Children, Dot's Kitchen, Helping Hands of Clemson, Meals on Wheels of Anderson, North Greenville Food Crisis Ministry, Oconee Presbyterian Service Fund, Pickens County Meals on Wheels, Ripple of One, Rosa Clark Medical Clinic, Safe Harbor, Samaritan Health Clinic of Pickens County and United Christian Ministries.
"We want you to enjoy Blue Ridge Fest, and we hope that you understand how important your support and attendance is to many people that need help in our local communities," Blue Ridge president and CEO Charles Dalton said. "Blue Ridge Fest is our employees' way of giving back, and we are honored to host the event at our headquarters for the eighth consecutive year."
Blue Ridge Fest is organized and executed by 250 Blue Ridge Electric Cooperative and Blue Ridge Security Solutions employee volunteers, enabling the festival to maximize its proceeds to benefit local charities.
The event will take place from 6-10:30 p.m. at Blue Ridge Electric Cooperative's covered outdoor facility at 734 W. Main St. in Pickens. Admission is $20 in advance or $25 at the gate. Children ages 7-12 are admitted for $12 in advance or $15 at the gate, while those ages six or younger are admitted for free. Attendees arriving in a classic car (1979 or older) with up to four people are admitted for $30. For classic cars, lineup begins at noon and gates open at 2 p.m. Dash plaques are available for the first 400 cars, and parking is limited for the first 500 classic cars.
For more information or to purchase tickets online, visit www.blueridge.coop/blueridgefest or call (800) 240-3400.