Boggs released as PHS coach
PICKENS — After a long week of rumors around the Pickens community, School District of Pickens County spokesman John Eby confirmed on Tuesday that Pickens High School head football coach John Boggs has been relieved of his coaching duties.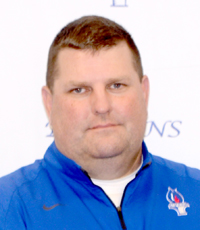 "This afternoon, Coach Boggs was released from his football coaching responsibilities, but will remain a faculty member as a math teacher at Pickens High School," Eby told the Courier in an email on Tuesday. "Assistant coach Chad Seaborn will be the interim head coach for the remainder of the season. Pickens High will begin a search for a new coach after the season."
Eby had said on Friday that Boggs was "on leave from his duties" as Pickens football coach.
Eby gave no word on the reasoning behind the move.
Pickens-area school board member Alex Saitta told the Courier earlier in the day Tuesday that school district superintendent Danny Merck had said in an email that Boggs was "suspended until Saturday."
"He didn't say more than that in his email, and I have not talked to Dr. Merck yet," Saitta said. "Unfortunately, long before I got on the board, the school board delegated all hiring of coaches to the superintendent. So the board knows little about the hiring, replacing or disciplining of coaches. I don't agree with that, and I think the board should have some involvement in all things that affect students, parents and the community."
After picking up their first win of the season against West-Oak two weeks ago before an open week last week, the Blue Flame will travel to Seneca to take on the Bobcats this Friday.
Seaborn, who served as head coach from 2010-14, prior to Boggs' hiring, will be the interim head coach. Seaborn had another stint as interim coach when his predecessor, currently Liberty High School athletic director Brett Turner, had to miss a game.
Boggs, a former Shrine Bowl lineman at Pickens, was in his second season as head coach of his alma mater after going 4-7 last season. He was also the head coach at Walhalla before leading the football program at Westsidein 2012 and 2013.