Boy Scouts hold annual district awards banquet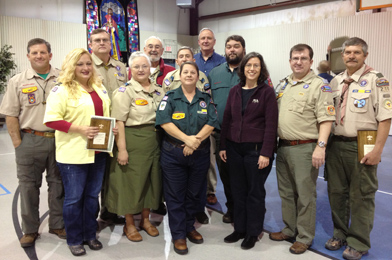 COUNTY — The Blue Ridge Council of the Boy Scouts of America recently held its annual district awards banquet. At the banquet, Cub Scouts were recognized for earning their Webelos "Arrow of Light" award and Boy Scouts for earning the much-sought-after Eagle badge.
Scouts who took an extensive church-based program were applauded for earning their Religious Awards.
Blue Ridge Council President, Philip Kilgore, encouraged the 180 in attendance to do all they could to make scouting great for the scouts.
Pickens district also recognized leaders that excelled in their positions. Sparkplug award recipients were Billy Lee, Jeff Bryant and Ramey Dickerson. Scoutmaster of the Year was Brian Dickard, and the Assistant Scoutmaster of the Year was Jim Fitzgerald. Gary Kokay was this year's Cubmaster, and Libby Basher received the Advisor of the Year award. Robert Sams and DeDee Clarey received the Scouter of the year honors. The Longevity award went to Jack Brock. The Scouting family of the year was Mike and Suzanne Nelson. Cindy Prendergast earned the committee member of the year award, while Anna Gipson received the Den Leader of the Year award.
The highest recognition that can be bestowed by a district, the District Award of Merit, went to long-time scouter Cindy Carter.
District chairman Jonathan Strange finished the banquet by urging the packs, troops and crews to strive for excellence.