Brotherly love
Asia-Pacific player reunites with sibling after 7 years
EASLEY — The J.B. "Red" Owens Baseball Complex in Easley is hosting international competition, new friendships and exciting fan experiences this week as the Senior League Baseball World Series is in town.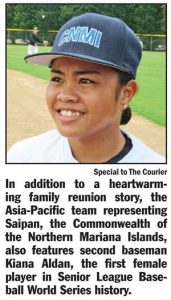 On Saturday, it featured a family reunion as well.
Justin Celis and his teammates from Saipan, the largest island of the Commonwealth of the Northern Mariana Islands, qualified for the SLBWS representing the Asia-Pacific region earlier this summer, an opportunity of a lifetime.
However, Justin didn't realize how special the trip would be. His brother, Ton, moved to the state of Washington seven years ago, and the two brothers had not seen each other since.
When Ton realized the CNMI team was making the 54-hour journey to the United States, he began
You must be logged in to view this content.
Subscribe Today or Login