Burkett named May's Pinnacle Performer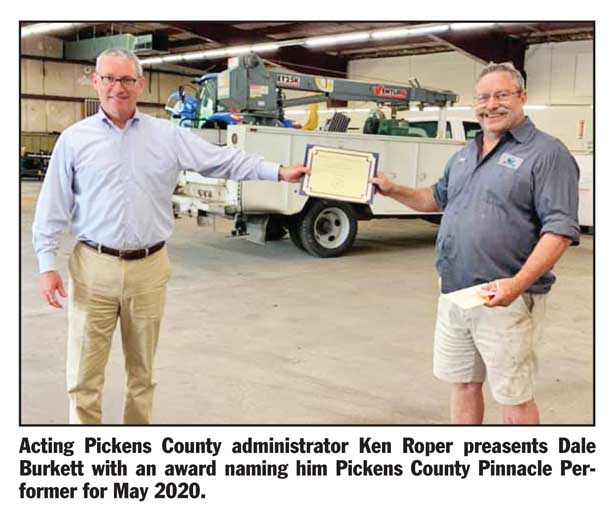 COUNTY — Dale Burkett of the Pickens County vehicle maintenance department was recently named the Pickens County Pinnacle Performer for May 2020.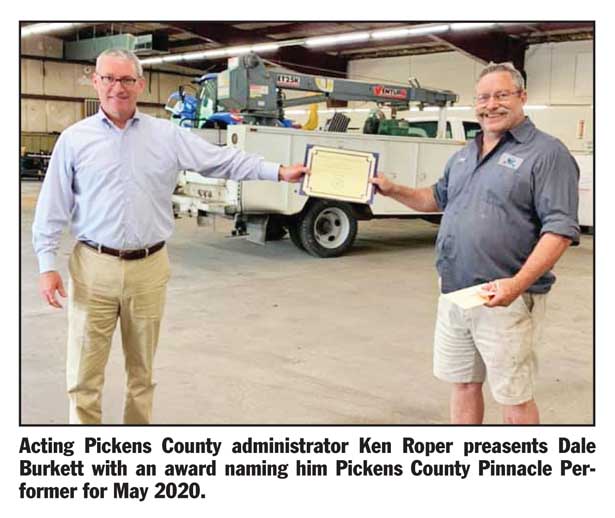 Burkett came to work for Pickens County as a mechanic II in 2001. He was promoted in 2016 to auto paint and body specialist, the position he holds today.
"Dale's commitment to his job and the county is impeccable," said county Emergency Services chief Kevin McClain, who nominated Burkett. "The job that Dale performs for the county saves the taxpayers thousands of dollars each year."
McClain said that not only is Burkett's skill level above average, but that he always has a great attitude and shows a willingness to help others.
Vehicle maintenance director Toney Chastain, who is Burkett's supervisor, said "he is one of those unique employees that all managers long to have."
He said Burkett shows up ready to work earlier than he's scheduled so that he can open the shop and get it ready for the day.
"You never hear a complaint or negative comment from him, and his work ethic and attention to detail are second-to-none," Chastain said. "He is in a position that is most often overlooked, but without him, our fleet of vehicles would not look as good as they always do. He has played a part in keeping all of the vehicles in service for the county. Whether it's installing all of the decals on the sheriff's office's vehicles or repairing wreck-damaged vehicles, or completely repainting a vehicle or piece of equipment, he goes above and beyond to try to find the most cost-effective solutions when performing the body and paint repairs on our fleet of vehicles. I was glad to see Dale win the Pinnacle award. It is well deserved, and it was good to see him be recognized for the outstanding job he does for the county. He is truly an asset to us all."
Pickens County Pinnacle Performers is a peer-to-peer recognition program that is designed to reward those who go above and beyond in their jobs. Some of the traits of a Pinnacle Performer include dedication and commitment to fulfilling their job responsibilities, good customer service, having a helpful and positive attitude and demonstrating initiative to save taxpayers money. One employee is selected each month. At the end of the year, one of the 12 recipients of the monthly award will be named Pinnacle Performer of the Year.
Pickens County also congratulated the following employees for being nominated for possessing the traits of a Pinnacle Performer: Samantha Greer — assessor's office, Paula Wagler — assessor's office., Anthony Raines — Sheriff's Office, Melissa Rice — Pickens County Library System, and Harold Young — building maintenance.