Business reopens after devastating fire
By Jason Evans
Staff Reporter
jevans@thepccourier.com
EASLEY — Hawks Motorsports reopened its doors last Thursday, just two days after a fire destroyed one of its buildings.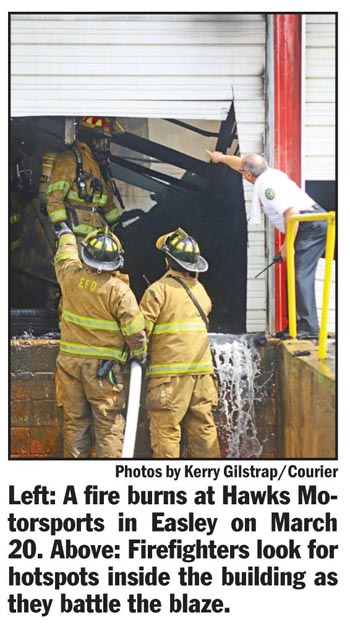 Easley Fire Chief Butch Womack said the call came in around 11:30 a.m. March 20.
Firefighters were on scene at the business, located at 937 Pelzer Highway, a little more than two minutes later, he said, and found a "heavily involved fire" at the end of the business nearer to Anderson County.
"It was the end that had the most fuel in it at the time," Womack said. "Both doors were open at the time and probably fueling the fire a little bit."
Three engines, two service trucks, a squad unit and a supervisor's vehicle responded to the fire initially.
All of the Pickens rural fire departments responded to assist, as did Pickens City and Clemson University Fire Department firefighters.
Anderson County provided a Hazmat unit, Womack said, and SLED was also called.
There were several explosions during the fire, including one that was filmed and posted to social media.
That particular explosion was caused by a liquefied petroleum gas tank on a forklift, Womack said.
"It was parked inside one of the bays," he said. "That was the large explosion that was on
You must be logged in to view this content.
Subscribe Today or Login