Cannon joining AnMed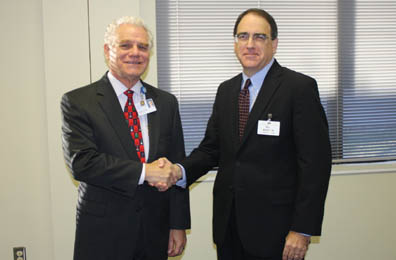 Rocky Nimmons/Courier
Cannon Memorial Hospital president and CEO Norman Rentz, left, shakes hands with AnMed executive Bill Manson at a breakfast meeting in Pickens last week announcing that Cannon will be integrated into the AnMed Health system.
PICKENS — AnMed Health and Cannon Memorial Hospital in Pickens have entered an integration agreement that becomes effective Jan. 1.
Cannon Memorial Hospital will be integrated into the AnMed Health system. However, it will remain its own entity — a not-for-profit corporation — and will continue to be governed by a separate board of trustees. Cannon Memorial will become a member corporation and AnMed Health will be its sole member.
"As the national health care landscape changes, AnMed Health works continually to adjust and stay ahead of those changes," said AnMed Health CEO John A. Miller Jr. "Today, efficiency in health care is found in building solid relationships and networks to handle financial, technological and medical challenges. Our integrated relationship with Cannon Memorial Hospital is part of that strategy."
A new board of trustees will be formed for Cannon, consisting of members of the currently-existing board and representatives from AnMed Health.
The integration plan is the latest stop on a journey that began with the two institutions in 2009 when AnMed Health and Cannon formalized an affiliation agreement. The two health systems have worked together ever since to bring greater economic efficiencies and high quality health care to the people of Pickens. AnMed Health has contributed to the successful operation of Cannon Memorial Hospital in areas such as physician practice management, managed care contracting and group purchasing.
According to Cannon Memorial President and CEO Norman G. Rentz, it's a good move for the Pickens hospital.
"Cannon Memorial Hospital has had a long history of providing quality health care services to patients in Pickens County," Rentz said. "It is our goal to continue to provide needed services and to grow the types of services we can offer. The health care industry is changing rapidly, and often such rapid shifts in the health care environment limit a smaller hospital's capacity to effectively provide the necessary and diverse services expected by its community. AnMed Health shares our commitment to quality and patient-centered healthcare and Cannon believes that integrating with AnMed Health will better position Cannon Memorial to provide quality, innovative, and specialized care to all residents of Pickens County. We are extremely pleased that AnMed Health is making this commitment to Cannon and Pickens County so that we can offer even more services to the community."
Cannon Memorial Hospital employees will continue to work for Cannon and maintain their Cannon benefits. They will report to the same supervisors as before. Cannon's CEO and CFO were already AnMed Health employees under the previous agreement created in 2009.
"Both institutions already have benefitted from the relationship over the last few years. This integration creates opportunities for Cannon Memorial to realize even greater financial efficiencies," Miller said. "This agreement is an avenue to more medical resources for the Pickens community. At our heart, we're very similar institutions except for size. Both were founded by individuals who wanted better health care for their communities."
Both organizations will benefit from a larger network of colleagues and professional relationships, but daily job responsibilities and reporting structure will not change for employees of AnMed Health or Cannon Memorial Hospital.
AnMed Health will work to ensure that Cannon Memorial Hospital is in a position to provide quality services consistent with a hospital of its size. Within its population, Pickens is seeing a growing need for services such as urology, cardiology and pulmonology.
Cannon Memorial Hospital started in 1947 as a three-room clinic, and now stands as a modern 55-bed facility with over 60 staff physicians. Services provided by Cannon include inpatient and outpatient services, a critical care unit, a 24 hour Emergency Department, nuclear medicine, radiology, laboratory, physical therapy, sleep clinic, and wellness programs. For more information about Cannon Memorial Hospital, go online to www.CannonHospital.org.
The AnMed Health system is home to more than 40 physician practices and a medical staff of almost 500 physicians specializing in primary care, pediatrics, obstetrics and gynecology, orthopaedics, cardiology, vascular medicine, electrophysiology, gastroenterology and several surgery specialties. To learn more about AnMed Health, go online to www.AnMedHealth.org.