Category Archives:
Community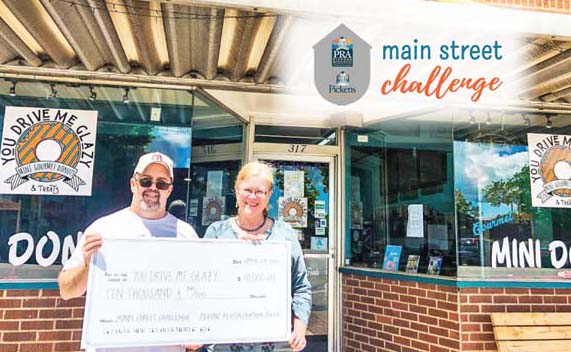 PICKENS — Pickens Revitalization Association has announced the winner of the Main Street Challenge, an entrepreneurial startup competition for the purpose of generating additional retail
occupancy in Pickens.
PRA chose to award one cash incentive in the amount of $10,000 for startup businesses or new concepts, which must then open a new location or introduce their new concept in Pickens. The money offered to the winner will take the form of a potentially forgivable loan, determined by the business' ability to meet all requirements of the program.
"Pickens Revitalization Association is pleased to announce You Drive Me Glazy Gourmet Donuts as the winner of the 2019-20 Main Street Challenge.," PRA president Megan Thomas said. "We are excited about the new outdoor dining and entertainment area that You Drive Me Glazy has developed and just know it will bring a great addition to our town. We can't wait to visit!"
You Drive Me Glazy submitted its application with plans to expand the rear of the building, increasing accessibility with a dog/bike-friendly outdoor donut dining experience.
Business concepts eligible for the competition included new startup businesses, franchises, an expansion or relocation of an existing location from another community, and a significant expansion of an existing local business that would branch into an additional business concept.
For more information on the 2019-20 Main Street Challenge guidelines, visit historicpickens.com.