Category Archives:
Obituaries

GERALD WAYNE NODINE
CENTRAL — Gerald Wayne Nodine passed from this life on Sunday, March 22, 2020, at the age of 73, at Regency LTAC Hospital in Greenville.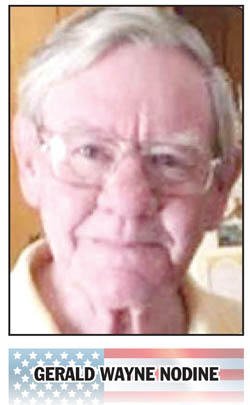 His caregiver, Ruth Nodine, and daughter, Cindy, were by his side.
Born to Paul Grady and Dorothy Inez Nodine in Greer on March 29, 1946, Gerald was the second of two children. He graduated from Greer High School with the Class of 1964. A Vietnam veteran, he served in the U.S. Army from 1966 to 1973, attaining the rank of captain. In 1970, while stationed at Fort Jackson, Capt. Nodine married Ruth Gregory. Two years later, while stationed in Clemson, they became the parents of quadruplets. He remained in Clemson/Central following his discharge to raise their family.
After working various jobs and studying at Tri-County Technical College, Gerald acquired a job with Clemson University. He retired from Clemson University after many years as a technician for the School of Mechanical Engineering in the graduate student research lab.
Gerald is survived by two daughters and two sons, Edie and husband Cheney Brunner of Cincinnati, Ohio, Cindy and husband Chris Greaves of Tallahassee, Fla., Paul Nodine of Central and Greg and wife Deb Nodine of Central; nine grandchildren: Jack and Robert Brunner, Kara, Michael and Timothy Greaves, Jacob and wife Megan, Joshua, Jordan and Joseph Nodine.
He was predeceased by both parents and his brother, James Nodine.
The Cremation Society of SC – Westville Funerals is handling details. No funeral will be held at this time. A VA service at a national cemetery will be scheduled for a later date.
In lieu of flowers, donations may be made to St. Francis Foundation – Bon Secours Health System at stfrancisfoundation.com.
GERALD ELLENBURG
PICKENS — Gerald Dennis Ellenburg, 74, husband of Laura (Veda) Medlin Ellenburg, passed from
this life on Thursday, March 26, 2020.
Mr. Ellenburg was born in Pickens County, son of the late Albert and Mary Dodgen Ellenburg. He was retired from Ellenburg Nursing Center in Anderson and he served his country as a lieutenant in the U.S. Army. Mr. Ellenburg was a member of Roanoke Baptist Church.
Survivors include his wife of 50 years, Laura (Veda) Ellenburg of the home; his son, Dennis Ellenburg (Sandy) of Pickens; and grandson, Anthony Alexander Ellenburg. Also surviving is a sister, Marilyn Cooper of Pickens.
In addition to his parents, Mr. Ellenburg was preceded in death by a sister, Jane Ladd Hamby, and brothers, Joel and Marcus Ellenburg.
Graveside services were conducted at Hillcrest Memorial Park, with the Rev. Justin Medlin officiating.
The family would like to extend a special thanks to Interim Hospice for the loving care given to Mr. Ellenburg during his last illness.
A message of condolence may be expressed to the family by visiting dillardfunerals.com.
The family is at the home.
CHARLES B. MASTERS
SIX MILE — Charles Masters stepped into the realm of glory out of this earthly world where he was