Champs!
Kerry Gilstrap/Courier
Members of the Pickens High School volleyball team celebrate winning their second State championship in a row on Saturday.
Pickens wins AAA volleyball crown
Liberty finishes as Class AA runner-up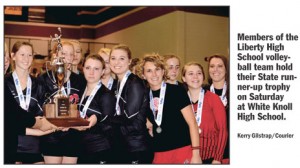 COLUMBIA — Just days after staging an improbable late-match rally to capture the Class AAA Upper State championship, the Pickens Lady Blue Flame — one of two local teams playing for a State title on Saturday — left less doubt during their match against Hilton Head Island.
Pickens won 3-1 over the Seahawks to take its second consecutive Class AAA State crown at White Knoll High School.
Liberty, meanwhile, fell short in its bid to knock off Class AA powerhouse Bishop England.
The Blue Flame were lucky to even get a shot at the crown, as the Upper State title match, played at Pickens last Tuesday, went down to the wire. The Flame stared elimination in the face as Eastside held a 14-9 lead in the decisive fifth set, needing only a point to clinch a trip to State. Pickens rattled off five straight points to knot the game at 14-14, then eventually pulled off an improbable 18-16 win to earn a shot at the school's 15th State title.
The title match was not without an early scare of its own, as Hilton Head Island scored the first 10 points to cruise to a 25-13 lead in game one. The Blue Flame bounced back to make it a match in game two, eventually surviving for a 26-24 win to tie the match at 1-1.
In games three and four, Pickens took control, winning 25-18 and 25-16 to earn coach Jennifer Gravely her sixth State crown in eight trips to Columbia.
"It takes a team to win championships," Gravely said. "It takes a community to build a dynasty."
After surviving a five-game thriller of its own with a comeback win to earn the AA Upper State title over North Central by scores of 18-25, 25-18, 19-25, 25-19, 18-16, Liberty faced an incredibly tall task in the State championship match on Saturday at White Knoll.
Trying to earn the school's first crown since winning three in a row from 1984-86, the Lady Devils were matched up against Bishop England, which entered the match as the winner of 14 consecutive Class AA State championships.
Although the Knights held a comfortable lead throughout the first game in winning 25-13, Liberty made Bishop England work in the second game, as the two teams traded ties and leads before the Knights held on for a 25-22 win. Bishop England cruised to a 25-6 win in the final game to secure its 15th AA State crown in a row.
Bishop England, which owns a national-record 25 State titles in school history, didn't lose a single game through its run to the crown this year. The Knights also didn't feature a single senior on their roster.
Liberty finished the season with a sterling 20-2 record, a Region I-AA title and a Class AA Upper State crown to its credit.