Cherokee Foothills Organic Farmers Market celebrates local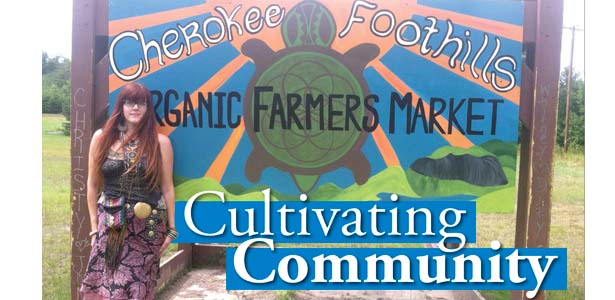 Photos by Jason Evans/Courier
Cherokee Foothills Organic Farmers Market founder Wendy Owens poses by the market's sign. The sign incorporates Cherokee imagery, including the turtle, an animal important to the Cherokee people. "It tells the story of the world," she said.
By Jason Evans
Staff Reporter
jevans@thepccourier.com
PICKENS — Driving along Scenic S.C. Highway 11, with Table Rock towering above you, it's easy to feel connected to the land.
That feeling continues at a new venture that connects area farmers with consumers.
The Pumpkintown Mountain Opry is hosting the Cherokee Foothills Organic Farmers Market. Each Saturday, vendors set up their wares on the opry's front porch.
On Saturday, shoppers had their pick of grass-fed beef, just-picked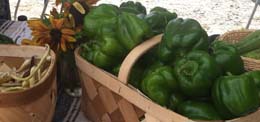 produce, fresh-cut herbs and flowers, handmade bread and local honey and homemade pimento cheese to slather on it.
On a recent Saturday, market shoppers had a chance to stock up on local produce, such as these peppers from Cleveland's Bare Bottom Farms, and speak with the farmers themselves.
"We're putting a huge call out for organic farmers and handmade, homemade grassroots crafts," Cherokee Foothills Organic Farmers Market founder Wendy Owens said. "We want people to really feel like they're a part of this."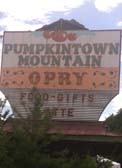 The market kicked off on June 4 and will run every Saturday until mid-September. Market hours are 1-7 p.m., rain or shine.
"We do a later market to honor the fact that other people do farmers markets early on in the mornings," Owens said.
Highway 11 landmark The Pumpkintown Mountain Opry is hosting the market.
The market's afternoon hours allow farmers and vendors to take part in other farmers markets in the area, then come set up for the CFOFM in the afternoon.
"We don't have a vision for competition," Owens said. "We have a vision for community and co-creation."
While the market's peak time begins around 3 p.m., Owens said people are encouraged to come "whenever they want."
Market participants include the Clemson Area Food Exchange, the Student Organic Farms, Satterfield Grass-fed Beef, Wild Earth Gardens, Humble Roots Pimento Cheese, Vdovichenko Bee Farm and Bare Bottom Farms.
Kimberly Kelly, a former co-host of WSPA's "Your Carolina," is one of the market's fans as well, Owens said.
"She's a local celebrity who left the major networks so she could have a simplistic, organic farm and garden," she said. "She usually brings thing here and is a big supporter."
The pimento cheese made by the folks at Humble Roots is developing quite a following in the Upstate and beyond.
The market's name is in honor of the area's Cherokee history, she said. One of the market's aims is to bring Cherokee permaculture, including seed-saving, back to the Upstate.
Originally from the Upstate, Owens is splitting her time between Asheville, N.C., and Pumpkintown these days, which allows for "cross-pollination," she said.
"It's great to have that cross-pollination between communities," Owens said. "It makes me realize this this is very doable. It's an amazing area, having neighbors like Tradd Cotter from Mushroom Mountain. The key person in mycelium in the world lives right down the road from us."
She says there is a lot of interest in the area regarding sustainability, something Asheville has become known for. That area offers a support system for local farmers, Owens said.
"I've heard for years that people in the Upstate want more of that support, supporting local, supporting organics, grassroots, sustainability," she said.
Owens approached the owners of the Pumpkintown Mountain Opry in April with her idea for the market.
"I'm very thankful for these people for giving me the opportunity," she said.
The bounty available at the market emphasizes freshness. Owens said everything at the market on Saturday came from within 50 miles of the opry. Supporting local farmers is key.
What makes fresh produce shine even brighter on the plate? Fresh herbs!
"We're losing our heirlooms here," she said. "We're losing a lot of our original seeds. I want to see our agriculture brought back, the way our grandparents grew things."
The market also seeks to support young farmers as well.
"If we don't learn to pass on the seed to the next generation, we're not going to have fresh food, we're not going to have the agricultural infrastructure that this area's been known for," Owens said. "We have a nine-month growing season here."
Items offered at the market don't have to be certified organic.
"It has to be integrally organically grown," Owens said. "We're trying to get farmers in here, whether they have the money to pay a vending fee or not."
The table fee at the market is $9, she said. But other forms of payment are welcome.
"We're offering them bartering so they don't even have to pay a weekly
rate or anything like that," Owens said. "Sometimes we'll just do trade. It's amazing when I have food in my refrigerator grown with love by local people who I know and I'm supporting. It gives them an opportunity to come out here and do what they do. I thought that was important, because I understand being a farmer now is difficult, being an independent farmer is difficult. We are really looking for farmers who want to integrally grow with us."
Satterfield Farms' products are being served at the Pumpkintown Mountain Opry Cafe and are for sale at the weekly market on its porch. The farm is located in Taylors.
Too hungry to wait until you get back home to eat your purchases? The cafe at the Pumpkintown Mountain Opry is there for you.
"The Pumpkintown Mountain Cafe is doing grass-fed beef, which is from Mr. Satterfield, and local, organic produce," Owens said. "The actual cafe is starting to offer a lot of organics as well."
As it grows, Owens hopes the market allows farmers from Upstate South Carolina, Western North Carolina and North Georgia a place to sell their wares.
It's all about celebrating homegrown or, as Owens calls it, "om grown."
"We want our farmers to have a Zen experience," she said. "We really want them — and the community — to feel like this is a place where they can go and make friends, have community conversations and do other things."
She said she would love to see other projects grow out of the market, such as a community garden, permaculture and barn-building.
"I see so much potential," Owens said.
A community garden would help combat poverty in the area, Owens hopes.
"Nobody should be in a place where they can't afford to take care of their basic needs and eat good food," she said.
Handmade items are also offered at the market, such as these soaps and other products from Pickens' Wild Earth Gardens and Medicial Herbals.
She would also like the market to celebrate the area's art, including crafts, and music as well. Musicians are welcome to play during market hours.
"This is our first step," Owens said. "That's why we're planting seeds. If you plant seeds, then you'll have a harvest. This is about cultivating a sense of community."
The Pumpkintown Mountain Opry is located at 3414 Highway 11 in Pickens. For more information about the market, visit omgrownus.wix.com.