Christmas can come twice a year
This year we postponed our family Christmas due to unforeseen circumstances. Instead of celebrating Christmas together on Christmas Day, we delayed until our family could be together.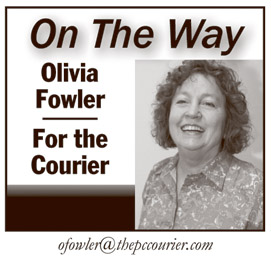 So on Christmas Day we spent time relaxing, wrapping presents and being thankful for our many blessings. We had ham sandwiches for supper and phoned our loved ones.
It was a happy, peaceful day. The tree was on, and the wrapped presents were at its base. Some of the smaller boxes were inside a red peck basket to protect them from an inquisitive Chihuahua who is at the stage of puppyhood where shredding paper is a joyous activity.
He is being house trained but seems a little confused, as although he is getting better about using the great outdoors, having a live tree inside the house inspired him to attempt to sprinkle it whenever he was not being supervised. Fortunatel,y his aim isn't the best and he didn't wet any gifts, just the sheet upon which they sat.
So our household did not actually celebrate Christmas with loved ones until New Year's Eve, as some were coming from far-away places.
Fowler built a bonfire at the fire pit, Uncle Jim made chili and we picked up slaw at KFC and roasted hot dogs. This was accompanied by Bush's home-style baked beans and Lay's Bar-B-Q potato chips. We had a bottle of Italian champagne on hand, with which we toasted in the New Year at 10:30, as I was almost asleep.
Our son-in-law was responsible for the champagne, as he is of Italian descent and very knowledgeable about wine.
I couldn't stay up to see the New Year in because of exhaustion. It takes more out of me prepare to host six people for three days, even though they all pitch in. Especially since the dishwasher broke down on New Year's Day/our Christmas Day.
We rose the next morning to celebrate our Christmas. We had a big pot of hot coffee, ate cinnamon buns courtesy of Sister Schubert and bacon courtesy of Oscar Meyer.
Then we opened stockings and gifts, sipping coffee and juice and laughing at some of the gag gifts that appeared.
Secret Santa brought our diehard USC fan a plastic plucked headless chicken stuffed with a bag of imitation giblets. The fowl was wrapped as a Butterball turkey, complete with logo and net bag.
This was a double blow to him, as he had deep fried the Thanksgiving turkey without realizing giblets were inserted into the neck cavity. This wasn't discovered until after the bird was carved and eaten. He was slicing off the remaining meat for sandwiches when he spied the white plastic bag. He called for help and was stunned when Fowler pulled out the bag of gizzard and liver. Fortunately the bag hadn't melted, but our USC fan was stunned and embarrassed.
The second part of the double blow was due to the USC football loss to Clemson. He may never recover. But we all had fun with the rubber chicken.
Santa brought Fowler a giant set of salt and pepper shakers with huge holes in the tops. This is because Fowler seasons heavily with salt and pepper and talks a bit about how hard it is to get enough to come out of the sets we have because the holes are too tiny.
He will have to be careful with his new ones, as the holes are big enough for rice grains to come through, but we're all sure he'll get the knack of it soon.
It was so good to be together for our Christmas. It proves that Christmas celebrations aren't restricted to Christmas but can happen anytime you choose. This year, 2015, we'll celebrate Christmas twice. Not a bad idea at all.