City of Pickens hosts players, families for dinner
PICKENS — The city of Pickens hosted a dinner at the Doodle Market Pavilion last Wednesday, Aug. 3, for Senior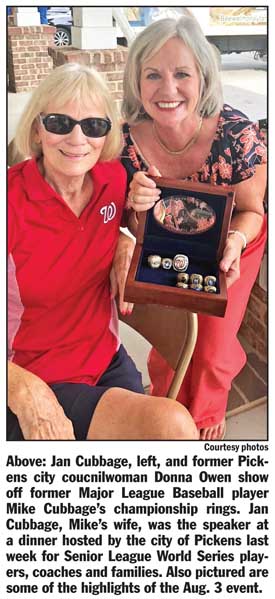 League World Series participants, with more than 400 players, coaches and family members in attendance.
Players and families from around the world attended, including teams from the U.S. Central Region (Burbank, Ill.), Southwest Region (Houston, Texas), Southeast Region (Norfolk, Va.), West Region (Maui, Hawaii), Asia Pacific (Guam), Caribbean (Puerto Rico), Europe Africa (Italy) and Latin America (Panama).
Mayor Fletcher Perry kicked off the evening by welcoming everyone to Pickens, then speaker Jan Cubbage — wife of former Major League Baseball player Mike Cubbage — gave an uplifting speech about "staying the course," adding that "big things are possible." The players loved getting to hold Mike Cubbage's championship rings, including two World Series rings.
Entertainment was supplied by the Matt Phillips Band.
The event was planned by the Greater Pickens Chamber of Commerce, and food was provided by SouthCack Taproom, Iron Horse Steamers and 2 Bros Pizza. The Pickens Fire Department helped serve the guests and made sure they were able to safely board their buses after a summer storm moved in.