City of Pickens is ascending
It's a rare phenomenon to see all of the winning elements in a growing community to sustain positive, authentic and beneficial change.
Pickens is one of those rare places where all of the elements exist. Some of these, just to name a few, are a beautiful downtown with mountain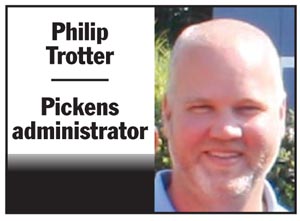 views, pristine natural resources, active community members, proximity to larger cities while maintaining a small-town feel, etc. The list goes on. All of this being said, Pickens is poised to grasp on to our best qualities and bring them to the forefront.
On April 14, the city had the pleasure of viewing the presentation of a brand-new master plan for Pickens that was put together by the Pickens Revitalization Association in conjunction with
You must be logged in to view this content.  
Blake Sanders of Studio Main LLC and Tripp Muldrow of Arnett Muldrow and Associates. This master plan is an update to the previous plan that was put together in 2012. Pickens was in need of an updated plan because, quite frankly, we've already accomplished many of the goals set forth in the 2012 plan. It may be hard to believe, but since 2012, Pickens has added the Doodle Trail, the amphitheater and the new Doodle Trail Park. The new plan includes some uniquely Pickens beautification efforts to our historic downtown, expansions along the Doodle Trail and a plan to recruit new businesses to Main Street.
Mr. Muldrow said it best during the presentation: "We need to stop saying that the growth is coming. The growth is here." Population projections show that Pickens is on a trajectory for growth. We need to make sure that the growth does not compromise the character of our town and is also handled in a sustainable way. The new plan will help us accomplish this.
It's also important to realize that this plan will be a team effort. The city looks forward to forging a strong partnership with the Pickens Revitalization Association, which has rebranded itself to Ascend Pickens. Our downtown is situated on a ridge, and no matter how you get there, whether it's on Highway 8, 178 or 183, you're always ascending into downtown Pickens. With this new plan, we're also ascending into the future, and our future looks very bright. With the help of our city employees, Ascend Pickens, business owners and you, our community members, we are going to continue improving our town. We have a lot to be proud of here in Pickens. We want to take this positive energy that we feel toward our town and use it to do something really special.
We could not be more excited for all that's in store for the future of Pickens, and we can't wait for you to see it.
If you have a talent, skill or passion that you'd like to volunteer to this momentum, please feel free to reach out to us at (864) 878-6421 or send an email to achastain@pickenscity.com. We would love to have you on board as we ascend Pickens to the next level.
Philip Trotter is administrator of the city of Pickens. He can be reached at ptrotter@pickenscity.com.