Clary seeks re-election to SC House
CENTRAL — Retired Circuit Court Judge and District 3 State House Rep. Gary Clary filed for re-election March 16 at the Pickens County Board of Elections.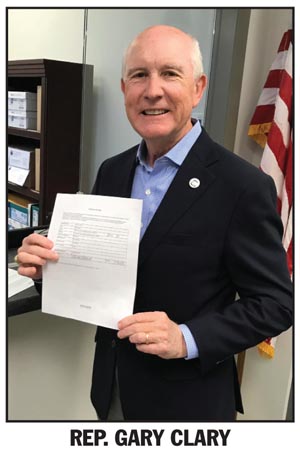 Clary was first elected to the South Carolina House of Representatives House District 3 seat in 2014, and he plans to seek his third term for office in 2018.
During his time in the State House, Clary has been an advocate for and a leader in education and reading intervention legislation, serving as the primary sponsor of a bill that requires the state Department of Education to provide dyslexia training to all literacy coaches and literacy teachers in kindergarten through third grade. He also co-sponsored legislation addressing educational inequity in poor school districts. During the current legislative session, Clary introduced H. 4434, which was unanimously approved by the Senate Education Committee. The bill now goes before the S.C. Senate, where it will hopefully be passed to the benefit of all the children of South Carolina.
Clary continues to be recognized statewide for his work on land conservation issues. He was awarded Upstate Forever's Public Servant of the Year
You must be logged in to view this content.
Subscribe Today or Login