Clemson bridge project to wrap up next month
CLEMSON — An official with the South Carolina Department of Transportation said the long-running project to improve the intersection of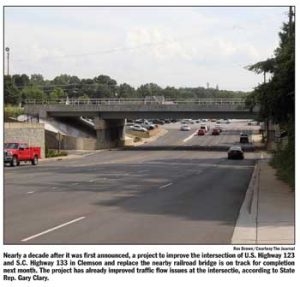 U.S. Highway 123 and S.C. Highway 133 and replace the nearby railroad bridge is on schedule to be completed Aug. 12.
"This project is coming along well," SCDOT resident construction engineer Joe Laws said. "The bridge has been completed with the exception of a few minor items, such as painting, waterproofing and a closure pour. The contractor is still working on a new platform for the Amtrak station."
Since it was first announced in 2009, numerous delays have kept the project from advancing as quickly as SCDOT, Clemson city officials and the public would have liked. However, the past couple of years have seen significant advancement in the way of demolition of the center pier of the old bridge and
You must be logged in to view this content.
Subscribe Today or Login