Clemson Elementary PTA gives $1K to Feed A Hungry Child PC
CLEMSON — The Clemson Elementary School PTA has donated $1,000 to Feed A Hungry Child PC, Inc.
Clemson Elementary PTA supports the students, faculty and staff of Clemson Elementary School. Fundraising is one of the major jobs of the PTA. Money is raised through PTA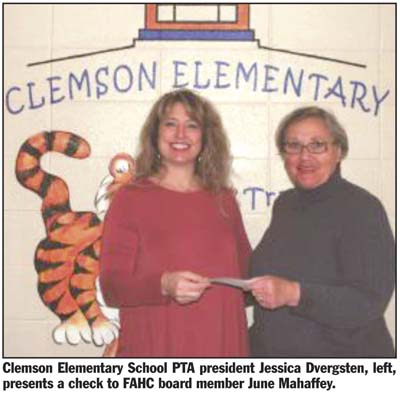 memberships, the Direct Donation Drive and PTA-hosted events. Bonus Bucks, Art by Me, ink cartridge recycling and other efforts contribute to the funds they raise. Money raised is used for activities and clubs, gift cards and grants for teachers and for school enrichment programs. The PTA president is Jessica Dvergsten, and the school principal is Michelle Craddock.
Feed A Hungry Child PC, Inc. provides sound, nutritional meals for Pickens County K4-12 grade students each weekend, throughout the school year, who would otherwise go hungry.
The organization has declared the third Sunday in May Feed A Hungry Child Giving Sunday.
You must be logged in to view this content.
Subscribe Today or Login