Clemson sustainable agriculture expert pens new book for more efficient farms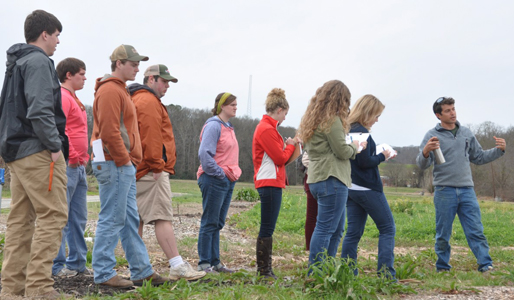 Courtesy Photo
The Clemson Student Organic Farm is a working organic farm and experiential teaching center dedicated to researching profitable, practical sustainable farming techniques that can benefit students and farmers across the country.
CLEMSON — As more folks opt for fresh, organic food, they decide to grow their own. But with limited time and tight budgets, they seek methods that work.
"The Bio-Integrated Farm," authored by Clemson University Student Organic Farm manager Shawn Jadrnicek, outlines key designs and elements to benefit any farmer or gardener who wants to save time and money.
Through his 17 years of work in agriculture, Jadrnicek has created and improved sustainable systems by integrating the free forces of water, wind, sunlight, convection, gravity and decomposition. He said his book is for anyone who's willing to work with nature.
"Integration is key. The more you integrate, the less work you have to do," said Jadrnicek. "Work is energy. The purpose of the balance is to save energy, to have as many elements in your landscape do most of the work for you."
Most of the systems Jadrnicek details in his book are on display at the Clemson Student Organic Farm, a five-acre working organic farm and experiential teaching center dedicated to researching profitable, practical sustainable farming techniques that can benefit students and farmers across the country. Other systems are in place at his home in Anderson.
Traditionally, greenhouses extend the growing season, but Jadrnicek has broadened their uses. From harvesting and storing rainwater to generating passive solar energy and employing aquaponics, his greenhouses serve many purposes.
"The Bio-Integrated Farm" details all of these designs to make the most out of any farm or garden. The book is an invaluable resource for creating a nearly autonomous system with little input and cost.
Each component in his system performs a role in a feedback loop that integrates the whole of the components together. This balance is what makes Jadrnicek's systems so successful.
"Shawn's visions are addictive," said Tradd Cotter, author of "Organic Mushroom Farming and Mycoremediation." "He teaches you not just to think outside the box and harmonize natural systems, but to act outside the box to create inexpensive and highly functional growing environments that are much more profitable and efficient than traditional growing systems."
Most of the systems rely on a steady water supply. Jadrnicek collects rainwater from roofs, filters out the dirty water with first-flush diverters and then stores the clean water in tanks and ponds. His water-harvesting techniques are especially useful to areas dealing with water scarcity.
"I use the water to harvest solar energy, transfer heat, grow plants, flush manure and move nutrients through the landscape," he said. "The more things that you can connect with the water, the more you can tap into those beneficial functions."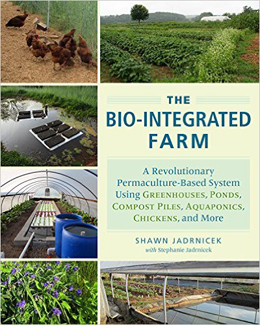 To harness the full potential of the water, Jadrnicek uses an aquaponic system. Aquaponics combines the cultivation of plants and aquatic animals in water. Animal wastes, such as ammonia, are converted to fertilizer for the plants. This symbiotic relationship acts as a filter for the aquatic life and a food source for plants.
"We developed shallow solar ponds since they are cheap ways to heat your greenhouse using solar and compost energy," Jadrnicek said.
Then he set out to find another use for the ponds. He figured freshwater prawns were the logical choice, because they are easy to sell and to clean.
"We wanted to grow more prawns in a smaller area, so we needed to filter the water," he said. "Aquaponics uses plant and gravel media to filter the water, which allows you to grow more prawns in a smaller area as well as provide nutrients to plants."
Any farm accumulates large amounts of waste. Jadrnicek has developed a way to use the waste that goes beyond traditional composting techniques.
Compost piles, containing food waste and wood chips, are connected to a hydronic system that heats the greenhouse during winter months. Although people have captured heat from compost piles for decades, Jadrnicek's model is efficient and effective.
"In the past, people have used pipes in the piles to extract heat," he said. "We developed a technique where you can extract the pipes using a tractor, and we have found a way to use less piping material. I wanted to make it serviceable with a tractor to reduce the amount of time spent digging up pipes."
During the summer months when heat generation is unnecessary, Jadrnicek grows black soldier flies to reduce waste and to provide a food source for poultry or fish.
As larvae, these flies consume large amounts of waste, deter pests and sanitize waste piles. Once they mature, they naturally travel uphill to the waiting poultry pens, acting as a steady food source.
"So many of us are slaves to our landscapes," Jadrnicek said. "But by having sustainable systems in place that work with nature instead of against it, we can begin to enjoy our landscapes."
Released on March 3, the book is available online at Amazon (http://www.amazon.com/The-Bio-Integrated-Farm-Revolutionary-Permaculture-Based/dp/1603585885).