Clemson tops Wake to win division title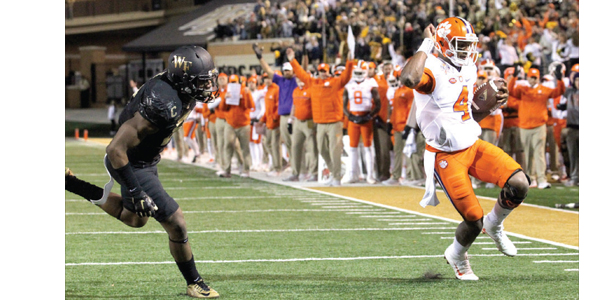 Rex Brown/Courtesy The Journal
Clemson quarterback Deshaun Watson cruises into the end zone for a touchdown against Wake Forest on Saturday.
Courtesy ClemsonTigers.com
news@thepccourier.com
WINSTON-SALEM, N.C. — Wayne Gallman rushed for a season-high 161 yards and two touchdowns to lead No. 4 Clemson to its second straight ACC Atlantic Division title with a 35-13 win at Wake Forest on Saturday.
The Tigers will play in the ACC Championship Game in Orlando, Fla., on Dec. 3 at 8 p.m. after securing the program's sixth consecutive 10-win season. Wake Forest fell to 6-5 with the loss.
"We have always responded well from the few losses we've had," Clemson coach Dabo Swinney said. "I'm proud of a bunch of young men that came out and responded in a great way. This was our next goal, and we've got a chance to play for a second straight ACC title. We appreciate our fans for showing out here tonight. We'll enjoy this one and look forward to next week."
The Tigers finished a second straight campaign with an unblemished road record, due in large part to Gallman's effort. But he was not alone, as Deshaun Watson accounted for three touchdowns — one through the air and two on the ground. Clemson finished with 456 yards of total offense, showing great balance with 254 on the ground and 202 through the air.
Rex Brown/Courtesy The Journal
Clemson receiver Mike Williams tries to break away from a Wake Forest defender on Saturday.
For the fifth time this season, the Tigers scored 21 points in a quarter. The first-quarter flurry was sparked by Gallman's 42-yard touchdown on fourth and 1. Watson was sharp in the opening frame, hitting 11 of 14 passes for 114 yards and accounting for two scores in all. Clemson led 28-0 after scoring on each of its first four drives, but Wake Forest responded with 13 straight of its own in the second and third quarters.
After a scoreless third, the Tigers rebounded in the fourth. Jordan Leggett made a critical play on third-and-long, stretching for a first down after catching a pass from Watson in the flats. Gallman cashed in later in the drive from a yard out, his second score of the game, to push the lead to 35-13.
Rex Brown/Courtesy The Journal
Clemson coach Dabo Swinney gets a Gatorade shower on the sideline as the Tigers wrap up the ACC Atlantic Division championship on Saturday at Wake Forest.
The Tigers will return home for their regular-season finale this Saturday against rival South Carolina. Clemson is looking for its third win in a row in the series. Kickoff is scheduled for 7:30 p.m., and the game will be televised on ESPN.