Clemson trustees OK major campus changes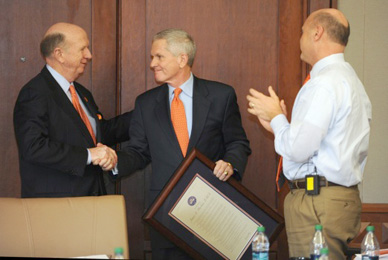 Clemson University board of trustees chairman David Wilkins, left, and President James P. Clements, right, congratulate President Emeritus James Barker at their meeting Friday.
CLEMSON — Moving Clemson University's 2020 roadmap forward, the school's board of trustees Friday approved plans and bond resolutions for several capital projects to provide new or renovated housing, athletic and other student-support facilities.
The trustees gave final approval to the plan and related revenue bond resolutions for a $116-million core campus development, which will replace some of Clemson's oldest student facilities, including Johnstone residence hall, built in the 1950s.
The core campus project also will include a new student-athlete academic enrichment center to be funded by athletics revenues and private gifts. This will allow the university to use the current 26,000-square-foot Vickery Hall for additional academic space purposes.
Housing and Athletics are auxiliaries that must cover all of their own costs, including debt.
The trustees also approved revised plans and related revenue and state institution bond resolutions for a $212-million complex on the former Douthit Hills site. The housing portion of the project will provide 980 beds for upper-class students and 750 beds for students in the Bridge to Clemson transfer program at Tri-County Technical College.
The project also will include a new facility for the 50,000 prospective students, parents and other guests who visit the campus annually, allowing for redirected use of the current Class of 1944 Visitors Center.
The board approved new athletic facilities revenue bond resolutions for previously approved renovation projects of the suites at Memorial Stadium and a portion of the Doug Kingsmore Stadium.
Brett Dalton, vice president for finance and operations, said, "With a strong balance sheet and low debt, we should take advantage of the current interest-rate and construction environment to address infrastructure, maintenance and renovations, and new facility needs while it is cost-effective and financially responsible to do so."
Trustee Bill Hendrix, chairman of the finance and facilities committee said, "Clemson is in better financial health than it was before the recession. We have been very conservative with bonded indebtedness — our interest on debt is less than 1 percent of expenditures. We're ranked No. 7 in the nation in efficiency by U.S.News & World Report."
In his first report to the university's board of trustees, President James P. Clements related his orientation activities in his first six weeks on the job and gave a "sneak preview" of an economic impact report by Clemson Regional Economic Analysis Laboratory to be released next week.
"In FY 2013, Clemson generated approximately $1.9 billion in economic output for the state of South Carolina," Clements said. "Our activities account for nearly 25,000 jobs, more than $1 billion in disposable income for South Carolina households and a net return to state taxpayers of $81.8 million — that's the difference between our net impact on state government revenue and our appropriation. Plus, we contribute a net return to local governments of $128.2 million.
"In other words, Clemson is a net funder of state and local government," he said.
Related to academic matters, the trustees approved new doctoral programs in nursing and education; a new Information Economy Project Center; a new certificate for applied behavior analysis; and termination of a graduate certificate for writing assessment.
With appreciation and in honor of his 14 years of service as the 14th president of Clemson University, James Barker was named President Emeritus.
The board approved naming a portion of the golf practice facility for former Tiger golfer Steve Bond and his wife, Margaret, both of whom are Clemson graduates.