Community comes together for prayer breakfast in honor of first responders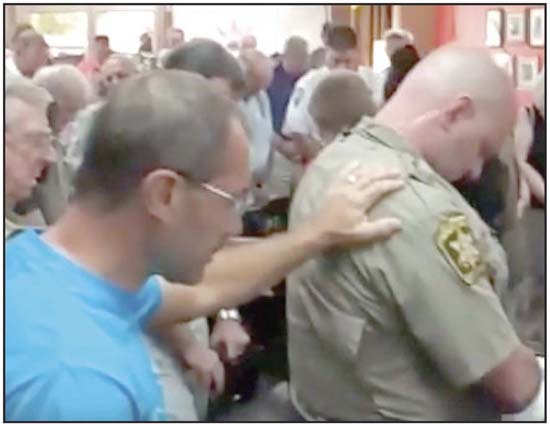 Courtesy photo
More than 100 people showed up at a prayer breakfast for local first responders last week at Café Connections in Pickens.
PICKENS — The morning began bright and early, with the smell of hash brown casserole and sausage biscuits wafting through the Café Connections, but this was no regular morning at the café.
About 50 Pickens County first responders attended an appreciation breakfast hosted by the café last Thursday, Aug. 4, and funded entirely through public donations.
"In light of all the tragedies in Dallas and Baton Rouge, we at the café wanted to do something to honor those in law enforcement, as well as the fire department and EMS," owner Ann Corbin said. "Goodness knows that if anyone needs to be encouraged these days, it is those who lay their lives on the line for us day in and day out."
While enjoying breakfast, each first responder received a pocket token, with "act justly, love mercy, walk humbly" inscribed, taken from Micah 6:8.
"We hope this gift will serve as a reminder to our first responders that we appreciate and support them and that God is with them," Corbin said.
The breakfast for first responders ran from 7:30-8:30 a.m., then the café opened for the public to come together to pray for first responders, the community and the nation.
"We were so thrilled that so many of our local heroes took the time to join us for breakfast, but the real thrill was the over 100 folks who showed up at 8:30 a.m. to pray over our first responders," Corbin said. "I was speechless seeing the sea of people flooding into the café solely to pray."
In addition to advertising the event on social media, flyers and an ad in the Pickens Courier, all elected officials received an email invitation.
Rep. Davey Hiott was among the elected officials who attended.
"I believe that showing support for the law enforcement officials, firefighters and first responders and thanking them for what they do is extremely important, Hiott said. "They put their lives on the line every time they respond to a call, and we should always keep them in our thoughts and prayers. They do it because they love their jobs and want to make sure we are safe citizens."
The prayer rally began just after 8:30 a.m., with Corbin telling a little about the café and its purpose.
"Café Connections is a hospitality ministry to Pickens, offering free coffee and baked goods in a calming atmosphere," she told those in attendance. "Café Connections is entirely funded by donations and is truly a place for the community of Pickens by the people of Pickens. The café welcomes everyone, from politicians to the homeless. We are all about showing the love of Jesus Christ to everyone who comes in."
Co-owner Steve Corbin then shared posters that were created with hundreds of signatures, many with personal notes expressing gratitude for each of Pickens County's four first responder departments — sheriff's office, police, fire and EMS.
Kathleen Campbell, a volunteer prayer partner of Café Connections shared a passage of scripture, Matthew 26:41, "Watch and pray so that you will not fall into temptation. The spirit is willing, but the flesh is weak."
"You know, this is the last instruction that Jesus gave to His disciples before He went to the cross — a word of instruction that is as important today as it was 2,000 years ago," she said. "What is outstanding to me is that Jesus gave this instruction to his disciples, his friends, as a result of their inability to stay awake. The flesh will tell us every time that prayer doesn't matter, that we are too busy. Apathy and busyness is a form of 'staying asleep.' I pray that this prayer rally will help us remember that we are invited every day to partner with God to change our world. If we do what we can do, 'watch' meaning 'be alert, be active,' and we ask God to do what He can do through prayer, we will see amazing things happen in our families, in our communities and in our nation."
Campbell then gave the invitation for those citizens who were comfortable to "lay hands," asking God's power to fall on the first responders.
"And that is when the floodwalls broke," attendee Luke Campbell said. "It was like, Katie bar the door. People were scurrying everywhere to bless and connect with our law enforcement, fire and EMS. It was so obvious that the public wanted to stand in the gap for these first responders and their families. It was amazing."
Then, as Kathleen Campbell led in prayer, the voices of others praying for one another overtook the room.
"I watched as friends and strangers laid hands on these men and women who serve us selflessly on a daily basis," Ann Corbin said. "They prayed for them, their marriages and families, the community and county of Pickens and then they prayed for their spiritual relationship with their heavenly Father. I saw tears fall, law enforcement officers embracing their children and their wives and I saw a community brought together through prayer. I was overwhelmed with emotion."
The prayer portion of the event lasted just more than 20 minutes, respecting the schedules of those headed to work, but it seemed that no one was really in a hurry to leave.
"It was almost surreal, watching police officers kneeling down shaking hands with little children, families getting pictures with firefighters (and) elected officials, our representatives, visiting with the public," Campbell said. "It was like the perfect picture of community."
Wes Hendricks, who was recently elected to Pickens County Council in the Republican primary, thanked the café for hosting the prayer breakfast.
"The jobs our first responders do aren't easy," he said. "They need God's protective hand. The prayer breakfast was well organized and attended. Also, I am thankful our citizens of Pickens County respect our first responders."
With the excitement for the event and a desire to show committed support for local police, fire, sheriff's deputies and EMS, someone in attendance mentioned that the first week of every August should be proclaimed as Pickens County First Responder Prayer and Appreciation Week.
When asked if there was such a day, Hiott said, "Pickens does not have a day set aside for this but hopefully this event will be the beginning."