Company unveils $3.4M expansion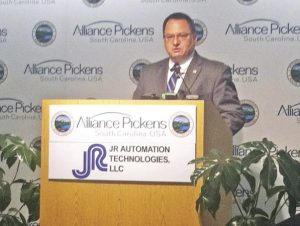 Jason Evans/Courier
Alliance Pickens executive director Ray Farley talks about the "world-class neighborhood" JR Automation Technologies will be joining at the Pickens County Commerce Park.
Move to commerce park set to create 56 new jobs
By Jason Evans
Staff Reporter
jevans@thepccourier.com
LIBERTY — An automation manufacturer is expanding, fulfilling a pledge made when it first moved to Pickens County in 2011.
JR Automation Technologies LLC will move to the Pickens County Commerce Park.
Officials announced the company's expansion Monday at the Alliance Pickens office.
"This is another wonderful day in Pickens County," county council chair Jennifer Willis said.
JR Automations designs, engineers and manufactures automation machinery and equipment for the manufacturing sector. The company serves a variety of industries, including fire protection, pharmaceutical, automotive and aerospace.
Its new facility in the Pickens County Commerce Park will be a 50,000-square-foot phase I facility, with room to grow up to 150,000 square feet.
The expansion represents a $3.4 million capital investment, according to the South Carolina Department of Commerce.
"This is a big win for our entire Upstate community," said Mandy Brawley, deputy director of the S.C. Department of Commerce.
Construction will begin in late 2016.
Willis said a special group of achievers led to JR Automation officials deciding to take a chance on Pickens County. She said Alliance Pickens officials were celebrating the success of Pickens County students, especially the successes of students at the Pickens County Career and Technology Center.
"These students compete annually on a local level, on a state level, on a regional level, on a national level and an international level," Willis said. "And folks, they don't just compete. They play to win. They come home with awards, often. We are very proud of them."
Those students are winning national and international competitions, particularly in robotics, welding and mechatronics, she said.
"Those kids … caught the attention of JR Automation Technologies in Michigan," Willis said. "They were looking for an expansion. They decided to come here to Pickens County, to test the waters, because of our students."
That led to the company leasing a 21,000-square-foot facility in Pickens for the company's first-ever facility outside of Michigan in 2011.
Once here, the company began establishing a relationship with the Career and Technology Center.
"Those kids are actually doing internships and some partnership experiences while they're still completing their high school program," Willis said. "When they walk out, they already have a job, they have some money in their pocket and they have a career and future that's going to give them the ability to live here in Pickens County, raise a family and have a great quality of life."
Five years later, officials are celebrating a permanent location for the company in the Commerce Park, she said.
"When we began the conversations in 2011, we said 'We would love to have you here in the park,'" Willis said. "But they wanted to be cautious. They are business owners — they needed to be good stewards of their resources. They need to evaluate, to make sure this partnership was going to work for them and for us. We are here to celebrate the fact that it is working and that is is going to continue to work. We are going to continue to watch them grow and thrive and succeed for many, many more years to come."
In addition to retaining the 32 jobs at its current facility in Pickens, the expansion will create 56 new jobs. All 88 jobs will pay $20 to $48 per hour.
"These are fantastic jobs," Willis said. "Jobs that will give people the ability to have a great quality of life."
The company is grateful for the partnerships it's been able to develop in this area, CEO Bryan Jones said.
"It is a pleasure to work with them," he said. "I can't say enough good things about South Carolina."
He said he's very excited about the company's existing Pickens County workforce and those who will be joining the team in the future, including Pickens County students at Clemson University and Tri-County Technical College, who are "well-positioned to do great things."
"Great focus on education," Jones said.
He praised the career center's Scholar Technician program.
"It's really neat to see the focus that the community has put on that, that the high school has put on it," he said. "It's amazing. If we can get more young adults interested in this, I think there's a phenomenal opportunity to, instead of graduating college with all kinds of debt, to be able to graduate college and technical programs with straight opportunities in front of them. We like being able to offer those kinds of opportunities."
Agricel will develop the project. Brian Nash, vice-president of development at Agricel, said the project will be completed in April.
"We have a Class A industrial park," Nash said. "We plan on building a Class A product."
Alliance Pickens executive director Ray Farley thanked the many people whose behind-the-scenes work made the announcement possible. He emphasized the work of both the current county council and previous councils regarding the Pickens County Commerce Park.
When the property was purchased, it was just a pine thicket, Farley said.
"All you had was a vision and some courage and some energy," he said. "Look what you've done in the course of 10 or 11 years."
JR Automation will be joining the neighborhood of world-class, state-of-the-art companies that call the park home, he said.
"That portfolio of private industrial companies, I can tell you, is the envy of a lot of communities in the Southeast," Farley said. "Kudos to you all for the work that you've done here."
Farley recalled "sealing the deal" with Jones in 2011 over a box of South Carolina peaches. At the end of Monday's announcement, Farley presented Jones with a fresh box of peaches.
"I'm really excited now," Jones said.
For more information on the company, visit jrauto.com.