Concord Baptist Church celebrates 125 Years of of God's faithfulness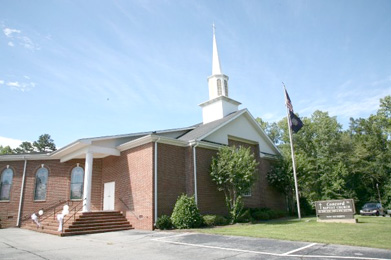 CONCORD BAPTIST CHURCH
Concord Baptist Church has been a fixture in Pickens County for well in excess of a century.
On June 30, the church celebrated 125 years of ministry, as members dressed in a variety of old-fashioned styles, many drove classic cars and matched their clothing to their car models. An antique doctor's buggy even made an appearance.
Church music director Roger Ellenburg led the congregation in a capella music, including selections sung at the church's very first service on June 30, 1888. Members were challenged by messages from pastor Guy Roberts, who has served the church alongside his wife Wanda since November 1999, and former pastor Tommy Hayes.
The church's anniversary celebration will continue throughout the summer, with special music, testimonies from church members, and the sharing of historical facts about the church's culture.
The celebration will culminate during a Homecoming service on Sept. 22 with a documentary film highlighting the church's history. Church officials invite family and friends to any services, especially the Homecoming service, which will begin at 10:30 a.m. and be followed by a meal on the grounds, with the film showing at 2 p.m.
Hayes will preach the morning message.
For more information, contact the church office at (864) 878-7461 or find Concord Baptist Church on Facebook.
Roberts, Hayes and the Concord Baptist congregation rejoice in what the Lord has accomplished, praying that God will continue to use the church fellowship for His glory.