Confederate Memorial Day event planned
PICKENS — For the 115th year, the traditional Confederate Memorial Day will be celebrated this Saturday, May 19, on the grounds of the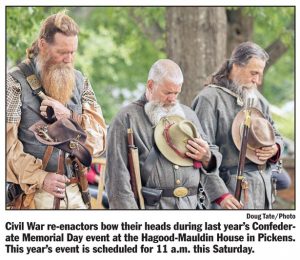 historic Hagood-Mauldin House at 104 N. Lewis St. in Pickens.
Sponsored by the Pickens County Historical Society and the Sons of Confederate Veterans camps of Pickens County, the event will begin at 11 a.m. The featured speaker will be historian Rossy Meadows of the Confederate Museum and Library in Greenville.
The public is invited to attend the educational and historical event. The museum house and gardens will be open for tours from 10 a.m.-4 p.m.
For more information, call (864) 878-1322 or email pickenscohistory@gmail.com.