Costly fumbles, fourth quarter doom Pickens
By Cole Little
Courier Sports
news@thepccourier.com
PICKENS — Plagued by costly injuries and even costlier turnovers, the Pickens Blue Flame fell to 0-3 on the season with a 21-7 defeat at the hands of county rival Liberty on Friday.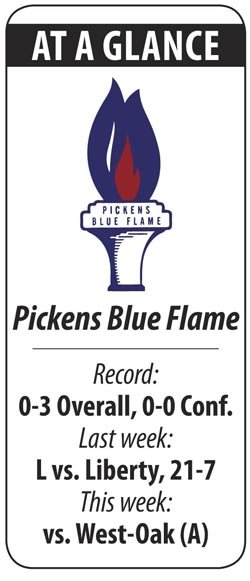 Two touchdowns given up after turnovers proved to be the coup de grace for the Blue Flame in a game that was highlighted by its physical play and continual momentum swings.
"It was a very physical game," Pickens head coach Chad Smith said after the game. "Liberty is a good football team. We had some key injuries early on, but I don't want to take anything away from Liberty. (The Red Devils) did a great job."
Despite the occasional big play, Pickens struggled to settle into a rhythm on offense, accruing just 99 total yards to Liberty's 297. Not helping matters for the Blue Flame was the absence of a passing game.
Although Smith's offense revolves around a tough running game, the Blue Flame lacked an aerial attack at all on Friday night, with starting
You must be logged in to view this content.
Subscribe Today or Login