County football coaches out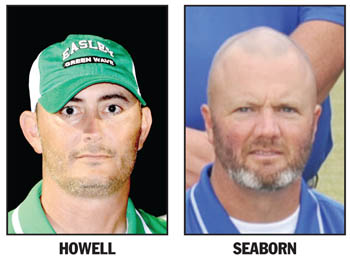 COUNTY — Two Pickens County high schools are in the market for new football coaches after disappointing seasons on the gridiron.
School District of Pickens County spokesman John Eby confirmed Tuesday that Pickens coach Chad Seaborn and Easley coach Grayson Howell will both remain as teachers at their respective schools but will no longer handle coaching duties.
Seaborn, a math teacher at Pickens High, announced his resignation at the Blue Flame's annual football banquet last week.
An Easley High graduate, Seaborn coached Pickens for six years, amassing a 26-39 overall record. Seaborn's squads reached the playoffs in his last five seasons at the helm, but were never able to advance beyond the first round. The Blue Flame finished 3-8 this season with a first-round playoff loss at Western AAA champion Wren.
In just his second season at Easley, Howell's Green Wave missed the playoffs with a 4-7 record in 2014. Easley was 5-7 in Howell's first season last year.
Howell sent an email to players' parents on Tuesday, telling them he had been relieved of his duties and lauding the players for their dedication.
"They have been incredible to work with, and I hope that they will continue to love the game of football and work to get better throughout this coming offseason," Howell wrote in the email.
Eby said the process of finding replacements for the two coaches has not been determined yet.