County plans Medal of Honor Dedication Day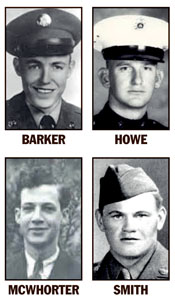 By Olivia Fowler
For The Journal
ofowler@thepccourier.com
COUNTY — Saturday, June 6, has been set aside as a county-wide Congressional Medal of Honor Dedication Day.
The two-hour event will begin at 10 a.m. in the newly renovated Liberty Civic Auditorium, where the families of Pickens County's four Medal of Honor recipients will be recognized and a biographical video "The Life of Four Heroes" will be shown.
The short film chronicles the lives of Furman Smith and William A. McWhorter, who were killed during World War II, Charles Barker, killed during the Korean Conflict, and James Donnie Howe, killed during the Vietnam War.
Congressional Medal of Honor recipient Major General James E. Livingston will speak.
Soloist Amy Evans will sing the National Anthem, and the 282nd Army Band Brass Quartet from Fort Jackson will perform.
Following the program at the auditorium, four individual dedication ceremonies will be held simultaneously for each recipient at the sites of three county fire departments and the Liberty Magistrate's Office.
The dedication ceremony for Smith will be held at the Six Mile Fire Department (629 Mt. Olivet Road, Six Mile), with concurrent ceremonies being held for Howe at the new District 2 Fire Department (110 Rice's Creek Road, Liberty), McWhorter at the Liberty's Magistrate's Office (310 W. Main St., Liberty) and Barker at the Concord Fire Department (756 Concord Church Road, Pickens).
The public is invited to attend.