Courier Obits 6-17-20

JOHN TOBIN WALL
EASLEY — John Tobin Wall, 73, passed away on Saturday, June 13, 2020.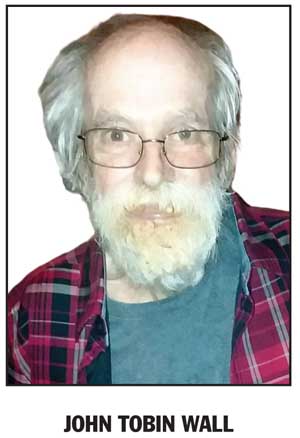 John was born on May 2, 1947, to Captain William Wall and Ida Chandler Wall in Denver, Colo., and in childhood resided in Biloxi, Miss., Tachikawa, Japan, Summit, N.Y., Sembach, Germany, Valdosta, Ga., and Orlando, Fla. He graduated from William R. Boone High School in Orlando in 1965, going on to receive a degree in accounting from Massey Business College in Jacksonville, Fla. After graduating, he resided in Jacksonville and Melbourne, Fla. before moving to Easley.
John worked as a mechanic and electrician for many years, employed by Michelin and Square D Company, among others. He was a member of Mensa and the Upstate S.C. Writers Guild, where his writing was published multiple times.
In 1977, he met Janice Dillard, and they wed in 1978, going on to have three children, Katherine (born and deceased in 1980) Michael Wall of Spring Hill, Tenn., and Martha Wall of Chicago, Ill.
John, whose pen-name was JT and who was known as John, Paya, Dad and Gwampa, loved music, fishing, writing, reading, his family and his many cats and dogs. He is remembered as an enthusiastic student of life, history and the natural world, and as a man of gentleness, intelligence, honesty and wit. He enjoyed going to his favorite restaurants, playing guitar and ukulele, the music of The Beatles, Bob Dylan and Paul Simon, interacting in memorable ways with friends and family and the beautiful outdoors of Upstate South Carolina, where he often fished and canoed. A man who overcame many obstacles in life, he imparted many lessons to his children, including that in the face of hardship, "it ain't nothin but a thang."
John was predeceased by his parents and his brother, Thomas. He is survived by his wife, Janice; his sister, Kathy, of Dummerston, Vt.; his brothers, Bill of Mexico, Miss., and Michael of Salt Lake City, Utah; his two children, Michael (Julie) and Martha; and five grandchildren, Angela, Ryan Tobin, Hannah, Jackson and Joanie.
Memorials may be made to a county humane society of your choice in memory of John.
A memorial service will be announced for a later date.
Dillard Funeral Home is assisting the Wall family.
Online condolences may be sent to dillardfunerals.com.
MARCIE E. ROSS BROOKS
LIBERTY — Marcie E. Ross Brooks, 56, sadly passed away on Wednesday, June 10, 2020, at Prisma
Health Greenville Memorial Hospital.
Born in Pickens County on June 11, 1963, she was the widow of Wayne Brooks.
She went to D.W. Daniel High School in Central. She enjoyed riding motorcycles and being outside. She was such a sweet and humble person. More than anything, she was a friendly, loving, strong and giving mother, daughter, sister, grandma, aunt and friend. Most of all, she especially loved spending time with her family. Marcie was a member of Freedom Biker Church Foothills.
She was predeceased by her husband, Wayne Brooks; father, Mack Ross; a daughter, Crystal Brooks; and a brother, Doug Ross, and Ollie Moore.
Marcie is survived by four sons, Adam (Sharlene), Drew (Veronica) Stacy and Russell, all of Liberty; nine grandchildren, Rayne, Kayden, Crystal Moon, Remington, Blake, Haley, Jeffrey, JT and Jacob; one great-grandchild, Auden; stepmother, Donna Kay Ross of Six Mile; four sisters, Sherri Ann Maw, Knotney Ross, Amy Barrett and Donnetta Ross; two brothers, Pete and Berry Ross; and many very special nieces and nephews.
A memorial service was held on June 13 at Freedom Biker Church Foothills.
ROBERT D. MONROE
SIX MILE — Robert D. Monroe, 88, of 196 Stewart Road, passed away on Friday, June 12, 2020, at Manna Rehab and Healthcare Center in Pickens.
A native of Pickens County, Mr. Monroe was born on March 9, 1932, to the late James "Jim" and Janie Stancil Monroe.
Robert was retired from Durham's Sawmill and was a member of Pickens Independent Baptist Church.
He is survived by a nephew, Lewis Monroe of the home.
In addition to his parents, Mr. Monroe was predeceased by three brothers, Henry B. Monroe, James Monroe and Bill Monroe; as well as three sisters, Nettie Waldon, May Duncan and Faye Breazeale.
A graveside service was held at Holly Springs Baptist Church cemetery in Pickens on June 15, officiated by Rev. Roger Todd.
In lieu of flowers, donations can be made to Pickens County Meals on Wheels in Robert's honor by mail at 349 Edgemont Ave., Liberty, SC 29657, by calling (864)-855-3770 or by visiting their website at pcmow.org.
Mountain View Funeral Home is serving the Monroe family.
CARL BENTON MOORE JR.
LIBERTY — Mr. Carl Benton Moore Jr., 57, went to be with his Lord and Savior on Monday, June 8, 2020.
Mr. Moore loved his family and his farm, and that love is what got Mr. Moore moving in the mornings. He lived to raise his chickens and goats. He attended Carolina Community Church in Liberty. He enjoyed his seven grandchildren and enjoyed being a jokester. His favorite radio station was Classic Rock 101.1 FM.
He took care of his family and enjoyed as much time as he could spend with them.
Mr. Moore was born in Easley and is survived by his father, Carl Benton Moore Sr.; his mother, Sarah Keith Moore; and his former wife, Selena Moore, all of Liberty.
Survivors also include his daughter, Amanda Chapman (Elijah) of Central; a son, Carl Moore III of Liberty; loving and precious grandchildren, Bentley, Cash, Forrest, Carver, Nova, Sadie and Azalea; and sisters, Gina Waldrop (Tim), Beth Moore and Carol Holden (Don), all of Liberty.
Mr. Moore was predeceased by a brother, Charlie Moore.
A chapel service for Mr. Moore was held at Dillard Funeral Home on June 14.
Dillard Funeral Home is assisting the Moore family.
Online condolences may be sent to dillardfunerals.com
KENNETH BILLY WATKINS
EASLEY — Kenneth Billy Watkins, 73, son of the late George William Watkins and Evangeline Beck Watkins Chappell, passed away on Wednesday, June 10, 2020.
Kenneth was a member of the Masonic Lodge and a United States Army veteran. He enjoyed fishing, as well as visiting with his family in Cherokee, N.C.
Survivors include his daughters, Christa (Zane) Galloway and Lisa Cox, both of Pickens; grandchildren, Joshua Watkins, Eric Cox, Stephen Cox, Kaylee Cox and Alyssa Cox; eight great-grandchildren; siblings, Bea (Billy) Roach, Mike (Joyce) Chappell, Tony (Angie) Chappell, Dennis Chappell and Sherry Chappell; an uncle and aunt, Jack and Lottie Beck; and his best friend of 61 years, Doyle Stubblefield.
In addition to his parents, Mr. Watkins was predeceased by his stepfather, Arnold Chappell; daughter, Sandra Jean Watkins; granddaughter, Kayla Watkins; brothers, George Harold Watkins, Johnny Ray Watkins and Gary Wayne Chappell; and nephew, Jamie Chappell.
A funeral service was conducted on June 13 in the chapel of Mountain View Funeral Home, by Rev. Alan McAlister and Chad Roach.
Burial followed at Greenlawn Memorial Park in Easley.
Mountain View Funeral Home is serving the Watkins family.
MELVIN EDGEWORTH SOWELL SR.
EASLEY — Melvin Edgeworth Sowell Sr., 86, loving husband of 56 years to the late Amy Ligon Sowell, passed away on Tuesday, June 9, 2020.
He was born Feb. 25, 1934, in Chesterfield County, to the late Charlie Clyde Sowell and Arista Belk Sowell.
Mr. Sowell retired from Saco-Lowell after 38 years, where he worked as a machinist. He was a member of First Baptist Church of Easley. He was also a member of the Bates Lodge No. 189 Freemasons of S.C. and a 4-H leader.
Survivors include his sons, Melvin E. "Whit" Sowell Jr. (Talley) of Easley and Charles H. "Chuck" Sowell (Laurie) of Pickens; and a grandson, Tyler Sowell.
Melvin was preceded in death by his wife and his parents.
A graveside service was held on June 11 at Hillcrest Memorial Park, with Ben Martin officiating. The family will be at their respective homes. In lieu of flowers, donations can be made to Pickens County Meals on Wheels at 349 Edgemont Ave., Liberty, SC 29657 or a charity of one's choice.
Mountain View Funeral Home is serving the Sowell family.
JAMES 'NEIL' ELROD
EASLEY — James "Neil" Elrod, 86, husband of the late Geraldine Sexton Elrod, passed away on Saturday, June 13, 2020, at his home.
Born on Dec. 9, 1933, in Pickens County, he was a U.S. Army veteran and was of the Baptist faith. He was a member of Holly Springs Baptist Church and attended George's Creek Baptist Church. He worked for Dixie Machine Tool for almost 50 years and was a fan of NASCAR and Clemson football. Neil enjoyed gardening and listening to bluegrass music and was extremely particular about his own landscaping. Above everything, Neil loved and cherished his wife, family and friends.
Surviving are his daughter, Rhonda Perry (Richard); one sister, Yvonne Bryant (George); five brothers, William Elrod (Shirley), Gary Elrod (Jean), Marvin Elrod (Brenda), TJ Elrod (Eloise) and Hugh Elrod; and three granddaughters, Taylor McJunkin (Brent), Claiborne Leaphart (Blake) and Ali Perry.
Funeral services were held on June 16 in the Dillard Funeral Home chapel, with burial following at Hillcrest Memorial Park in Pickens.
Online condolences may be expressed to the family by visiting dillardfunerals.com.
SHARON M. COLWELL
EASLEY — Sharon M. Colwell, 75, passed away on June 14, 2020, surrounded by her four daughters.
Sharon was a 1963 graduate of Nelsonville High School. She enjoyed homemaking, sewing, painting and flower gardening.
Survivors include her daughters, Amy C. Huff (Tim) of Pickens, Laura D. Colwell of Pickens, Sarah C. Durham (Mark) of Piedmont and Heather C. Kluge (Shannon) of Easley.
Sharon is also survived by her siblings, Ron Mount (Mary) of Waverly, Ohio, Steve Mount (Kathleen) of Westerville, Ohio and Elizabeth Pond (Tim) of Ellijay, Ga. Sharon was blessed with 11 grandchildren and eight great-grandchildren.
Sharon was predeceased by her parents, Howard Earl Mount and Marguerite Mae Mount, both of Nelsonville, Ohio.
A private memorial service will be held in Ohio at a later date. Mountain View Funeral Home is serving the family.
In lieu of flowers, memorials may be made to the Lupus Research Alliance, 275 Madison Avenue, 10th floor, New York, NY 10016.