Courier Obituaries 11-8-23

DAVID 'PAPA DAVID' SMITH
LIBERTY — Mr. David "Papa David" Smith, 83, loving husband of Mrs. Lynda Crowe Smith, of Liberty, passed away on Saturday, Oct. 21,
2023, at his residence.
Papa David was born in Six Mile, on Sept. 27, 1940, to the late Cliff and Ethel Towe Smith.
A true Giant of a man, he loved big and only wanted what was best for those he loved, which included his family, both near and far, his grandchildren, great-grandchildren, close friends, camping buddies, church friends and daycare babies.
Papa David had the best sense of humor and he loved to joke and would take every opportunity to make people laugh and smile. A man with an infectious smile that would light up any room, he was a joy to all who knew him with his jokes, simple smile, and happy-go-lucky personality. Papa David was loved by so many people, and his memory will be cherished throughout the years to come.
Papa David could always be found in one of his woodworking or metal shops. A true handyman who could fix or make anything you asked for, he truly enjoyed crafting things by hand for his family and friends. In his later years, even though Papa David couldn't work as well as he used to, he could surely supervise the work being done in his shop and give you constructive criticism on how to do the job correctly (just ask his son-in-law or grandson-in-law).
Papa David was always an adventure that was waiting to happen. He cherished the time he was able to spend with his family, which included many trips all over the Southeast, where they would listen to old country music while he drove, bobbing his head to the music and waving at the passing drivers. Papa David was always willing to do anything his family asked him to do, if it made them happy, which included numerous bike rides throughout the campgrounds. He loved to camp and enjoyed his time spent with the Bagwells and his many camping friends in the campgrounds and on the lake.
Papa David was a member of Calumet Baptist Church in Liberty, and although his family and friends will miss him greatly, because of his faith, they rejoice that his body has been made whole at the feet of Jesus.
In addition to his loving wife of 62 years, Papa David is survived by his daughter, Angie Violett (Rory); his six grandchildren, Joey Cromer, Christy Rousey, Jamie Cromer, Taylor Fleming, Sydnee Violett and Rylee Violett; his 11 great-grandchildren; and a brother, Roger Smith (Linda).
In addition to his parents, Papa David was preceded in death by his daughter, Renee Cromer; and four sisters, Sue Mann, Dorothy Whitlock, Louise Yeargin and Jean Porter.
Graveside Services were conducted on Oct. 24, at Hillcrest Memorial Park in Pickens.
The family wishes to extend a special thanks to Interim Hospice, especially Jennifer Clayton and Tina Alexander, for their love, care, compassion, and concern for Papa David during his final days with his family. You all are a blessing.
Flowers are accepted.
Online condolences may be expressed to the family by visiting dillardfunerals.com.
 GARY WAYNE  'PETE' SIMMONS
EASLEY — Gary Wayne (Pete) Simmons, 76, passed away on Monday, Oct. 30, 2023, at Prisma Health Greenville Memorial Hospital.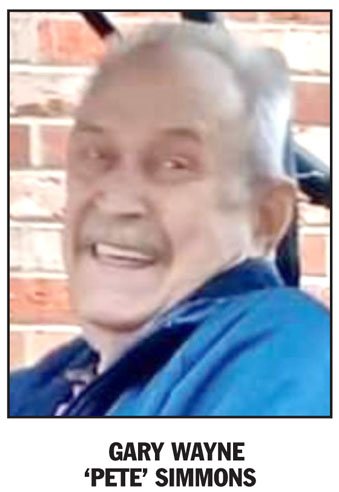 Born April 2, 1947, in Pickens County, Gary was the son of the late Clarance Grady Simmons and Grace Elizabeth Chappell Simmons.
Survivors include his two children, Deborah (Debbie) Simmons Davis (Ken), and Gary Dale Simmons (Robin); five grandchildren, Jonathan Davis (Taylor), Josh Davis (Brittany), Justin Simmons (Rachel), Dillon Simmons (Emileigh) and Kendra Dixion; 10 great-grandchildren whom he loved dearly; three brothers, Clarance Grady Simmons Jr. (Violet), Donald James Simmons (Doris) and Marion Vann Simmons (Terry); and a sister whom he loved and diligently called "Sister", Martha Anne Simmons Coleman (Phil).
The family will hold a private memorial service.
Mountain View Funerals and Cremations- Pickens Chapel is serving the Simmons family.
MAURICE A. "MOE" FORTIN
EASLEY — Maurice A. "Moe" Fortin, 83, loving husband of the late Gisele "Gigi" Gauthier Fortin, passed away on Thursday, Nov. 2, 2023, at his home.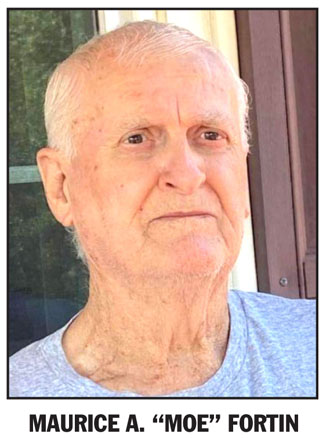 Born July 25, 1940, in Van Buren, Maine, Moe was the son of the late Authur Fortin and Blanche Gagnon Fortin. Moe was "the man, the myth, and the legend." He was a stern, but gracious man. He enjoyed bird watching, working with wood, and working with his hands. He was a private man. He loved his family dearly and will be missed by them and his loving dog Miko.
Survivors include his children, Lloyd Maurice Fortin (Brenda) of Seneca, Peter Patrick Fortin (Shirley) of Easley, Cynthia Georgette Stewart (J.Watt) of Liberty, Alan Alger Fortin of Easley and Tina Lynn Roberson (Scott) of Easley; grandchildren, Tonya, April, Michael, Matthew, Christy and Jacob; many loving and precious great-grandchildren; one beautiful great-great-grandchild; and siblings, Roger Fortin (Patrick), Louiselle and Norman Fortin (Caroline).
In addition to his wife and parents, Mr. Fortin was predeceased by 19 of his siblings.
In lieu of flowers, memorial donations in Moe's honor may be made to St. Jude Children's Hospital by visiting their website at stjude.org/give/memorials-and-dedications.html or by mailing 501 St. Jude Place, Memphis, TN 38105.
Mountain View Funerals and Cremations- Pickens Chapel is serving the Fortin family.
ELIZABETH GAYLE HENRY
LIBERTY — Elizabeth "Momma Gayle" Henry, beloved mother, grandmother, and sister, peacefully passed away on Thursday, Nov. 2, 2023, at her residence in Liberty, at the age of 79.
She was born on Oct. 31, 1944, in Clayton, Ga. a daughter of the late James Lawrence and Ellie Lazelle Talley Bryson.
Elizabeth, or "Momma Gayle" as she was known to family and friends, will be forever remembered for her love of music. Her all-time favorite singer was Elvis Presley, and his soulful melodies always managed to brighten her spirits.
Gayle had a fondness for adventure and embraced the wanderlust within her. Through her travels, she discovered new places, cultures, and made unforgettable memories.
Her devotion to family was exceptional. Gayle cherished every moment spent with her daughters, Sherri Wise (Rodney) of Hampton, Va. and Vicki Durham (Mike) of Liberty, and her son, Kevin Henry (Susan) of Liberty. She held a special place in her heart for her grandchildren, Cynthia Jefferson (Terrell) and Steven Brooks (Geralyn); and her great granddaughter, Tatyana Jefferson. Also surviving are two sisters, Opal McCall and Mae Ivester (Dennis); a sister-in-law, Shelby Chastain; and several nieces and nephews.
Gayle's love and care knew no bounds, and she was a pillar of strength for her family.
She pursued a career in the textile industry, working diligently for Glen Raven Mills. She was a longtime member of Cannon Memorial Baptist Church in Central.
Graveside services took place on Nov. 7, at Golden Grove Wesleyan Church Cemetery.  No formal visitation is planned.
In addition to her parents, she was preceded in death by a son, Chris Henry; two sisters, Doris Hicks and Lois Hawkins; and three brothers, Homer, Wymer and Wendell Bryson.
May her gentle soul find eternal rest and may her spirit continue to guide and inspire us.
In lieu of flowers memorials may be made to Prisma Health Hospice of the Foothills, 390 Keowee School Road, Seneca SC 29672.
To share a memory or leave a condolence for the family please visit libertymortuary.com. Liberty Mortuary is handling arrangements.
STEPHEN SHELDON PARSONS
EASLEY — Stephen Sheldon Parsons, 73, loving husband to the late Nancy Laurel Parsons, passed away on Monday, Oct. 30, 2023, at his home.
Born Oct. 24, 1950, in Englewood, N.J., Stephen was the son of the late Thomas Parsons and Gwendolyn Parsons.
Survivors include his two sons, Tyler Parsons and Stephen Parsons; granddaughter, Sophia Parsons (age 4); and siblings, Mike Parsons, Lynn Gioffre and Carol Whalen.
In addition to his wife and parents, Mr. Parsons was predeceased by a son, Justin Parsons.
Mountain View Funerals and Cremations- Pickens Chapel is serving the Parsons family.
DORIS 'DOT' FERGUSON MASON
PICKENS —  Doris "Dot" Ferguson Mason, 93, passed away on Saturday, Nov. 4, 2023, at her residence.
Born in Pickens County, Dot was a daughter of the late Milton Ferguson and late Marie McCoy Ferguson. She was a graduate of Draughon's Business College and retired from Bank of America. She was a member of Mountain View Baptist Church.
Dot is survived by her husband of 60 years,  James Doug Mason; daughter, Phyllis Gilstrap (Gerald); her granddaughter, Jill G. May (Wayland); her grandson, Philip Gilstrap (Jennifer); her great-grandson, Lane Gilstrap; and sister, Diane Nabors (Roy).
In addition to her parents, Dot was preceded in death by her brothers,  Milton Ferguson Jr., Joe Earl Ferguson and Tommy Gene Ferguson and a sister, Patsy Pepper.
Graveside services were conducted on Nov. 7, at Greenlawn Memorial Park, Easley.
In lieu of flowers, the family requests that memorial donations be made to Crescent Hospice or Mountain View Baptist Church, Six Mile.
Visit robinsonfuneralhomes.com or Robinson Funeral Home and Crematory-Downtown, Easley.