Courier Obituaries 9-20-23

JOHN CLARK GALLOWAY
ANDERSON — Mr. John Clark Galloway, 69, loving husband of Rhonda Joyce McCulloch Galloway, of Anderson, passed away Sunday, Sept.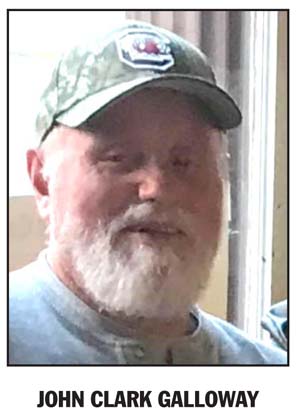 10, 2023 in Sparta, Ga.
Mr. Galloway was born in Pickens County on Jan. 25, 1954 to the late Verner and Marie White Galloway.
He was retired from Nu Life Environmental as a supervisor and in his free time he enjoyed tournament fishing, hunting, bowling, sitting on his back porch watching the deer, and cars, especially project cars. Mr. Galloway was a very competitive person, who loved all sports, especially cheering on his favorite team, the USC Gamecocks. He was a loving man who always tried to be there for anyone going through a difficult time, and truly cared for everyone he met. Family was most important to Mr. Galloway, and he cherished every moment he was able to spend with his grandchildren, and he loved playing with his dog, Buddy. He will be greatly missed by his family, friends and all who had the pleasure of knowing him.
In addition to his loving wife of 10 years, Mr. Galloway is survived by his five children, Jason Galloway (Tonya) of Sparta, Ga., Nathan Galloway (Chasity) of Belton, Ashley Galloway of Easley, Catherine Patterson (Matt) of Florence and Jacklyn Earnhart (Eric) of Easley; his nine grandchildren, Cameron, Austin, Deja, Sebastian, Caroline, Hannah, Mackenzie, Aiden and John; a brother, Billy Galloway (Anne) of Liberty; a step-sister, Donna Raby of Pickens; and his first wife, Kathy Hendricks Galloway.
In addition to his parents, Mr. Galloway was preceded in death by a son, John Michael Galloway; and five brothers, Wayne Galloway, Larry "Shortie" Galloway, Jackie Galloway, Wesley Galloway and Kenneth Galloway.
Funeral services were conducted on Sept. 16 in the chapel of Dillard Funeral Home. Interment followed at Hillcrest Memorial Park in Pickens.
The family is at their respective homes.
In lieu of flowers, the family requests that memorial donations be made to the Pickens Blue Flame Bass Anglers: 150 Blue Flame Drive, Pickens, SC 29671.
Online condolences may be expressed to the family by visiting dillardfunerals.com. Dillard Funeral Home is assisting the family with arrangements.
PATRICIA 'PAT' RHODES BURKHARDT
PICKENS — Patricia (Pat) Rhodes Burkhardt passed away on Thursday, Aug. 31, 2023, at home.
She was born Dec. 16, 1961, in Dallas, Texas, to David R. Rhodes and P. Carol (Hulsey) Rhodes Curry.
Pat graduated from Belchertown (Mass.) Jr.-Sr. High School in 1980 and pursued a career in the Army in 1985. It was in the Army that she met and married on July 22, 1988, the love of her life Lawrence E. Burkhardt in Bad Aibling, Germany, and became not only his wife, but "bonus Mom" of his three children.
She and her family returned to the States in 1990, after retiring from the Army and settled in Pickens after living briefly in Maryland and Virginia.
In addition to doting over her family and her pets, she enjoyed collecting antique furniture, knick-knacks, jewelry collecting and making, tending to her plants, an avid reader, loved watching and collecting anime and sci-fi and most amazing of all, becoming an incredible cook.
After Army life, Pat was a real estate agent in Maryland and when they moved to South Carolina was manager at the Movie Gallery in Pickens, worked at the cafeteria at Baptist Easly Hospital and most recently was a florist at the Liberty Ingles.
She was predeceased by her parents and will be deeply missed by her husband of 35 years; her siblings, Michael Rhodes (Laurie Waite) of Massachusetts, Sherri Strickland (William) of Vermont, Amy Rhodes of Kentucky and Kristy Benefield (Craig Gosselin) of Kentucky; her children, Lawrence Burkhardt Jr. (Cindy) of Maryland, Charlie Burkhardt (Rachel London) of Maryland and Kimberly Blair (Josh) of South Carolina; grandchildren, Alexandra, Cole, Meredith and Valerie Burkhardt, Charlie, Nathan and Raylin Burkhardt and Brody and Elizabeth Blair; and great-granddaughter, Karissa Burkhardt. She will also be missed by her niece, Sarah Rhodes and nephew, Casey Benefield and his family.
Pat was a guardian of animals and with the help of Pickens County Humane Society took it upon herself to have the many feral cats in her neighborhood captured, altered and then sheltered and cared for by her. In honor of her life, charitable donations can be made in memory of Patricia Burkhardt to the Pickens County Humane Society at pchumanesociety.org or P.O. Box 83, Liberty SC 29657.
JACK G. BROCK
EASLEY — Jack Gilbert Brock, 96, died peacefully at home on Monday, Sept. 11, 2023.
He will be remembered for his kindness, generosity, resilience, sense of humor, willingness to help and mentor others, ability to calm small children (earning him a "baby whisperer" moniker), dedication to his family and his church, and for the smile on his face and the twinkle in his eye.
He was born in Whitmire. After a childhood full of adventure and five years of active-duty service in the U.S. Army Air Corps in WWII and its aftermath, he graduated from Clemson in 1950 and settled in Easley. He spent his career in marketing and management in textile manufacturing, primarily narrow fabrics for the burgeoning seat belt industry. He served in the Air Force Reserves for 37 years. He loved to spin stories about his decades as a Boy Scout leader and cherished visits from his old scouts up until the end of his life. He was a ham radio operator, a long-time member of the Easley Lions Club, a member of the Pickens County Beekeepers Association, and a lifelong accomplished amateur photographer and musician. He served the Easley Presbyterian Church in various capacities for six decades.
As the oldest of 14 children, he became a patriarchal figure in a large family after his own father's death. He also had the good fortune to be married to two wonderful women — Marjorie Helen Moon, who survives him, and Margaret Frazier Brock from 1953 until her death in 1998. So he leaves behind a multitude of children, stepchildren, grandchildren, step-grandchildren, four great-grandchildren, sisters, brother, nieces and nephews, all of whom will remember him with smiles and gratitude, and will miss him very much. An abbreviated list includes Jack Gilbert Brock Jr. (Karen, children Megan AmericanHorse and James), Ellen Louise (Joe Borzelleca), Mary Lucille (children Andrea and Jesse Fath), John David (Sherrie), Joshua Guthrie (Amanda, children Jonah, Katie, Daniel, Elisha, Josiah and Bella), Ethan Guthrie (Katie, children Owen, Abram and Isla) and Anna Hagan (Andrew, children Anson and Autumn).
The family acknowledges with gratitude the care he received in the last few years from Right at Home and Center Well Healthcare; and especially to Vergie Jennings, Pam Westbrook and Rebekah Birtwistle who became like family to him. The family is additionally grateful to the many friends and extended family who visited him and made him feel special in his last days.
A private graveside burial was held with the family. A celebration of Jack's life will be held at Easley Presbyterian Church, 200 S 1st St in Easley.
Visit robinsonfuneralhomes.com or Robinson Funeral Home and Crematory-Downtown, Easley.
JOSEPH 'JOE' NEIL BOLEN
PICKENS — Joseph "Joe" Neil Bolen, 92, of Pickens went to be with his Lord on Saturday, Sept. 9, 2023.
Born in 1931, he was one of six children born to William James Bolen and Stella Mae Bolen.
All of his sisters and brothers preceded him in death. He was married to Annice Bolen for 57 years at the time of her death.
Both are survived by their daughter, Harriet Bolen and husband, Jim Brown of Spartanburg; son, Joseph Neil Bolen Jr. and wife Gina of Peach Tree City, Ga.; and two grandchildren, Joseph Tyler Bolen and Jacob Neil Bolen.
Joe graduated from Lees-McRae College and then served in the Army where he was stationed in Okinawa during the Korean War. Upon his return stateside, he graduated from UNC — Chapel Hill. He started work for the Singer Corporation in Pickens in 1959 and by the time he retired in 1990 he was the President of the Motor Products Division of the Singer/Ryobi Corporation.
Joe loved Pickens. He was an avid golfer and UNC Chapel Hill basketball fan. He enjoyed woodworking, but his great love was vegetable gardening. He had earned a Master Gardener Certificate from Clemson University. Joe was a faithful member of Grace United Methodist Church in Pickens.
A memorial service will be held at Grace United Methodist Church in Pickens on Saturday, Sept. 23rd at 2 p.m., with a visitation following in the parlor.
In lieu of flowers, donations may be made to the Pickens Senior Center.
Mountain View Funeral Home — Pickens Chapel is serving the Bolen family.
BENNY RAY MORTON
LIBERTY — Benny Ray Morton, 62, loving husband of 27 years to Susan Reid Morton, passed away on Thursday, Sept. 14, 2023, at Pruitt Health Hospice — Pickens.
Born June 26, 1961, in Pickens County, Benny was the son of Mary Francis Earwood Morton the late Earley Benjamin "E.B." Morton. Mr. Morton was a member of Faith Baptist Church in Norris but attended Gap Hill Church of God with his family. He loved music and blessed others with his guitar playing. He loved fishing for anything that would bite the hook, deer hunting and most of all he loved his family.
In addition to his wife and mother, Mr. Morton is survived by two daughters, Rhonda Beck (Ben) and Shannon Harris (Dean), both of Liberty; five grandchildren, Torey Manuel (Johnny), Kelsey Amos (Chris), Haley, Hannah and Elijah Harris, all of Liberty; a great-grandson, Asa James Manuel; siblings, Jimmy D. Morton (Jeannie), Nancy Stephens, Linda Hayes (James) and Danny Morton, all of Liberty; an aunt, Donna Ross of Easley; and was loved by numerous nieces and nephews.
In addition to his father, Mr. Morton was predeceased by a grandson, Daniel Harris; a nephew, Michael Morton; and a niece, Cathy Cordell.
A memorial service was held on Sept. 19 in the sanctuary of Gap Hill Church of God in Six Mile.
In lieu of flowers, memorial donations in Benny's honor may be made to the Cancer Association of Greenville, 113 Mills Ave, Greenville, SC 29605.
Mountain View Funerals and Cremations – Pickens Chapel is serving the Morton family.
LEWIS ARTHUR 'ART' Wall
EASLEY — Lewis Arthur "Art" Wall, a dedicated and honorable man, passed away on Saturday, Sept. 16, 2023, at the age of 82.
Born on June 30, 1941, in Spartanburg, to the late Hollis Jason and Della Laughter Wall. Art was a beloved husband to Brenda Durham Wall for over 64 years.
Art was a man of integrity and discipline, having served his country with unwavering loyalty as a member of the United States Navy for over 20 illustrious years. His bravery and commitment were further exemplified through his service during the Vietnam War. Art's dedication to his nation earned him the respect and admiration of all those who knew him.
After retirement from the Navy, Art obtained an Associate's Degree in Business Management and was a co-owner of Anchor Fire and Safety.
Art was a faithful servant of Jesus Christ and loved serving in several capacities at Carolina Baptist Church in Spartanburg. Later, after moving to Easley, he became a member of Camp Creek Baptist Church where he continued to serve the Lord.
In addition to his wife, he is survived by his daughters, Holly Gibson (Greg) of Liberty and Debbie Ellison (Greg) of Easley; four loving grandchildren, Shannon Frazier (Josh), Bryant Gibson (Kristen), Chelsea Herron (Josh) and Emily Gibson; as well as eight great-grandchildren.
Family, friends, and all who were touched by Art's remarkable presence were invited to honor and celebrate his life in a visitation that was held at Liberty Mortuary on Sept. 19. A funeral service followed at the Liberty Mortuary chapel.
In accordance with his wishes, Art was laid to rest in a solemn burial ceremony, with full military honors, that took place on Sept. 19, at Good Shepherd Memorial Park in Boiling Springs.
In recognition of his service to the nation, Lewis Arthur Wall will forever be remembered as a loving husband, devoted father, and a true American hero. May his soul find eternal peace as his legacy lives on in the hearts and lives he touched.
ETHAN FOWLER
EASLEY — Ethan Bradford Fowler, 20, went to be with his Lord and Savior Friday, Sept. 15, 2023.
Born in Greenville County, the son of Michelle Faulkner Fowler, Ethan was a 2021 graduate of Easley High School, where he graduated with honors in machine shop and auto mechanics. He was a supervisor for Warehouse Services, Inc. He was a member of Sandy Springs Baptist Church, where he attended with his Mama and Papa Fowler.
Ethan was very outgoing and loved to tinker with his cars or anything that needed attention. He dearly loved his friends and family, but his greatest love was for his mother, Michelle, he was her protector and always made sure she was taken care of. Ethan will be deeply missed by all that loved and knew him.
Surviving, in addition to his mother, are his uncle, Sean Faulkner of Easley; his grandparents, Patti R. Messervy of Easley and Bob and Bonnie Fowler of Simpsonville; his aunt, Sandra Roper of Easley; his big brother cousins, Sean-Thomas Faulkner, Cullen Faulkner and Owen Faulkner; and his beloved dog and companion, Ryder.
Ethan was predeceased by two grandfathers, David Faulkner and Eddie Messervy; his beloved Pop; and a special great-uncle, Benny Roper.
Funeral services will be held at 2 p.m. on Wednesday, Sept. 20, in the chapel of Robinson Funeral Home-Downtown, Easley. The family will receive friends from noon until 1:45 p.m. prior to the service at the funeral home.
Visit robinsonfuneralhomes.com or Robinson Funeral Home and Crematory-Downtown, Easley.
DARLENE L. LOWE
Darlene L. Lowe, 58, loving wife to Travis Lowe, passed away on Sunday, Sept. 17, 2023 ,at her home.
Born Dec. 21, 1964, in Walterboro, Darlene was the daughter of the late David G. Sauls and Janice Padgett Sauls. Mrs. Lowe was a member of the Disabilities Board where she loved those that she served. She loved everyone, especially her grandkids.
Survivors include her husband, Travis Lowe of the home; a daughter, Samantha Carter (Christopher) of Pickens; grandchildren, Blake, Barrett, Michael and Cameron; siblings, Teresa Lyons (Buddy), Wanda Crosby (Roy), Anthony Sauls (Luann) and Rose Davis (Walt); a niece, Mauldin Thomas (Jonathan); nephews, Christian Davis and Wesley Davis; and great-niece, Olivia Thomas.
Mrs. Lowe was predeceased by her parents.
Mountain View Funerals and Cremations – Pickens Chapel is serving the Lowe family.
RICHARD RAYMOND  TERHURNE
LIBERTY — Richard Raymond Terhurne, 58, passed away on Friday, Sept. 15, 2023, at his home.
Born May 14, 1965, in Wells, Minn., Richard was the son of Janet Louise Peterson Purvis and the late Richard Joseph Terhurne. Mr. Terhurne worked as a commercial construction painter. Richard was a loner, but he loved his pets and enjoyed fishing. He fished for whatever would bite. He loved his stock car racing. He also enjoyed his boats and spending time on the lake.
Survivors include his soulmate of 16 years, Wendy Wilson; his mother, Janet Lousie Peterson Purvis; stepbrothers, Lyle Palmer, James Terhurne and James Palmer; and stepsisters, Christine Purvis and Laura Long.
Richard had a tremendous impact on the life of Wendy and her three children, Frank Lakeman, Briana Ward and Taylor Wilson. In addition to his father, Mr. Terhurne was predeceased by a sister, Michelle Terhurne.
Mountain View Funerals and Cremations – Pickens Chapel is serving the Terhurne family.
WILLIAM DAVID CANTRELL
PICKENS — Mr. William David Cantrell, 83, loving husband of Edwina Kaye Cantrell, passed away on Saturday, Sept. 9, 2023.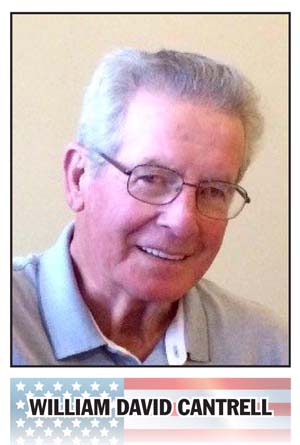 Born in Pumpkintown, he was the oldest son of the late William Lloyd and Inez Hawkins Cantrell. He was an avid fisherman and Atlanta Braves Baseball fan. David was a U.S. Air Force veteran and a member of Pine Grove Baptist Church.
In addition to his loving wife of 54 years, David is survived by a son, William David "Bill" Cantrell Jr. (Laura) of Camas, Wash.; and a brother, Neal Cantrell (Delta) of Pickens.
In addition to his parents, David was preceded in death by two brothers, Curtis and Alton Cantrell.
Funeral Services were conducted on Sept. 14 in the chapel of Dillard Funeral Home with interment following at Hillcrest Memorial Park in Pickens
Flowers will be accepted or memorials can be made to Pine Grove Baptist Church, 902 Pine Grove Church Road, Sunset SC, 29685.
Online condolences may be expressed to the family by visitingdillardfunerals.com.
VENICE GALLOWAY ROBERTSON
EASLEY — Venice Galloway Robertson, wife of Charles A. Robertson, passed away on Tuesday, Sept. 12, 2023.
Born in Easley, she was a daughter of the late Claude C. and Marie Harris Galloway. Venice was a graduate of Easley High School, and was also a graduate of Draughon's Business College. She worked at Barnes Insurance Agency for over 20 years as a bookkeeper.
Beyond her career, Venice found true joy in spending time with her loving family. She treasured moments shared with her great-grandchildren, Mia and William, who brought immense happiness into her life.
Venice is survived by her loving husband of 73 years, Charles A. Robertson; her daughter, Dianne Fortner; grandsons, Ben Fortner (Stacey) and Scott Fortner (Lynn); and great-grandchildren, Mia and William.
In addition to her parents, Venice was preceded in death by her son, Steve; and sisters, Margaret Galloway and Elizabeth McKinney (Jim).
To honor Venice's memory, a graveside service was held on Sept. 15 at Hillcrest Memorial Park in Pickens.
MARY R. LANCE
PICKENS — Mary Reece Lance, 89, a beloved member of the Pickens community, passed away on Sunday, Sept. 17, 2023, in Pickens.
Born on Nov. 8, 1933, in Polk County, N.C., she was the daughter of the late J.C. and Susie Bradley Reece.
Mary was known for her exceptional talent as a ceramic artist. She owned her own ceramic shop and dedicated her life to creating unique and beautiful pieces of art. Through her work, she brought joy and inspiration to countless individuals, leaving an indelible mark on the artistic community.
Beyond her career accomplishments, Mary's greatest source of fulfillment came from spending time with her loved ones. She cherished every moment with her husband Jake, particularly when they would escape to the lake for peaceful fishing trips. These moments allowed them to connect with nature and each other on a deeper level. Mary wholeheartedly believed that being surrounded by loved ones was one of life's greatest blessings. This sentiment extended to her grandchildren, whom she adored immensely.
Surviving are her son, Randy Fowler (Joyce) of Pickens; her beloved grandchildren, McCay Fowler (Tory) and Dalton Kelsey (John); and her great-grandchildren, Liam, Xander, and Max Fowler, Josie and Jonas Kelsey; and a brother, Floyd Reece (Shirley) of Charlotte, N.C.
In addition to her husband and parents, Mary was predeceased by four brothers, Walter, James, Albert and Curtis Reece.
A graveside service will be held in honor of Mary on September 20 at 11 a.m. in the Hillcrest Memorial Park Mausoleum.
Mary will forever be remembered for her vibrant spirit and unwavering love for those around her. Her memory will live on through the beauty she created, the lives she touched, and the legacy of kindness she leaves behind. As we bid farewell to Mary, let us celebrate the remarkable life she lived and find solace in knowing that her spirit will forever shine brightly in our hearts.
In lieu of flowers, the family kindly requests that donations be made to Rock Springs Baptist Church, 201 Rock Springs Road, Easley, SC 29642.
Visit robinsonfuneralhomes.com or Robinson Funeral Home and Crematory-Downtown, Easley.
DONNIE NATIONS
EASLEY — Donnie Dewey Nations, beloved husband, father, grandfather and great-grandfather, passed away peacefully on Saturday, Sept. 9, 2023, at the age of 81.
Born in Cateechee on Jan. 19, 1942, he was a son of the late Dewey Wayne Nations and Mildred Childress Nations Perry.
Donnie was a proud and devoted family man, deeply treasuring the time spent with his loved ones. Throughout his life, he nurtured and cherished the bonds he shared with his wife of 61 years, Shirley Nations; their son Anthony Nations; his grandchildren, Courtney Azzari (Brandon) and Jesse Nations; and his great-grandchildren, Marco Azzari, Luca Azzari, Maple Nations and June Nations; who brought him immense joy and laughter. Also surviving is his sister, Elizabeth Ann Vaughn.
A man deeply connected to nature, Donnie found solace and fulfillment in outdoor activities. As an avid hunter and fisherman, he reveled in the challenges and rewards that nature provided. Additionally, Donnie had a passion for beekeeping and took great pride in his carefully cultivated hives. He found great joy in sharing his knowledge and experiences with others, always eager to lend a helping hand.
In his leisure time, Donnie enjoyed engaging in friendly competition, whether it be engaging in a spirited game of corn hole or gathering around a bonfire, regaling his loved ones with stories and jokes. His love for music was evident, often humming or singing along to his favorite tunes, creating an atmosphere of warmth and joy wherever he went.
Funeral services to honor and celebrate Donnie's remarkable life were held on Sept. 15 at Greenlawn Memorial Park in Easley.
Donnie Dewey Nations will be remembered as a man of unwavering love, strength, and devotion. His rich legacy will forever be etched in the hearts of those who were fortunate enough to have known him and been touched by his kindness and genuine spirit. As we bid farewell to this remarkable soul, may we find solace in knowing that his memory will forever live on in our hearts.
To share a memory or leave a condolence for the family please visit libertymortuary.com.
VELMA B. 'PEACHES' BETHEA
EASLEY — Velma B. "Peaches" Bethea, 52, passed away on Thursday, Aug. 31, 2023, at Greenville Memorial Hospital.
Born Dec. 2, 1970, in Thomasville, N.C., Peaches was the daughter of the late Jody Burns and Rain Hunt. Mrs. Bethea loved bingo and was a Second Amendment advocate. She was a loving mother, sister and best friend, and acted as a mother to everyone.
Mrs. Beatha is survived by her children, Shalon Freels (Eddie) of Pickens, Anthony Bethea (Delsa) of Anderson and Daniel Bethea of Anderson; grandchildren, Logan, Anthony, Eleanor, Bailey, Aspen, Ashland, Austin and Anna Bella; a brother, Joseph Hunt; three sisters, Jamie "Sunshine" Burns, Billie Jo Hutchins and April Burns; nieces and nephews, Searra, Chasity, Amanda, Cody and Nick.
In addition to her parents, Mrs. Bethea was predeceased by a sister-in-law, Sandra Anderson.
A graveside service was held on Sept. 15 at Bethlehem Church Cemetery. Flowers were accepted.
Mountain View Funerals and Cremations – Pickens Chapel is serving the Bethea family.