Courier Obituaries 9-9-20

ERVIN MCGILL BREZEALE SR.
PICKENS — Ervin McGill Brezeale Sr., 91, passed away peacefully in his sleep at his daughter's
home to be with the Lord on Monday morning, Aug. 31, 2020.
Born on Jan. 14, 1929, in Pickens County, he was the son of the late George Ervin and Cora Jane Brezeale of Six Mile. He drove a truck for most of his life along with Pony Express. He loved gardening and had a green thumb and always had a beautiful yard with lots of beautiful flowers. For one third of his life, Mac lived in Charlotte, N.C., where he and his wife, Lucille Daves Brezeale, grew their home and family of six kids together.
Mac loved music and the Lord and was always singing. He played the harmonica beautifully and was always telling jokes and cutting up. He had a positive outlook on things and could make a joke about anything, making him easy to get along with and very entertaining. He also loved car racing and was always on the move. He could outwalk just about anyone on the hospital trail. He loved going to the stores and would give kids his change. Mac loved sweets so much that he would get a bag of candy in the store, and by the time he got to the register, he only had an empty bag to pay for. He loved talking and was very funny and enjoyed making people laugh, whether he knew them or not.
Mac and Lucille moved back to Pickens in 2003, wanting to live their last years in his hometown and where his wife could be closer to her siblings. They were married at an early age and had six beautiful children, 13 grandkids, 30 great-grandkids, and one great-great grandkid.
Survivors include his wife, Lucille Daves Brezeale; three daughters, Linda P. Brezeale (Joe Carter deceased), Brenda S. Brezeale Haulk and Ramona L. Brezeale Phillips; three sons, Ervin M. Brezeale Jr. (Beverly), Barry D. Brezeale (Scherl) and Timothy Scott Brezeale (deceased 2000); and 13 grandchildren, David Carter, Chastity Foust, Chad Brezeale, Christian Brezeale, Michael Willard, Kimberly Timms, Ashley Doerflein, Samantha Haun, Timothy S. Brezeale Jr., Daniel Dickard Jr., Sarah Pace, Rachael Hester and Jerry Addis.
Mac's siblings have all already passed, and his the ashes of his son, Timothy Scott Brezeale Sr., will be laid to rest with Ervin, along with his headstone between Ervin's and Lucille's.
A memorial service was held on Sept. 4 at Tabor United Methodist Fellowship Hall.
Our condolences go out to the family of the late Mr. Brezeale.
Dillard Funeral Home in Pickens is assisting the Brezeale family.
CARL HENRY KREFT
PICKENS — Mr. Carl Henry Kreft, 84, went to be with his Lord and Savior on Sept. 1, 2020.
Mr. Kreft was born in Rogers City, Mich., and was the son of the late Paul Kreft and Marie Dobbert and husband to the late Lucille Avery Kreft.
Mr. Kreft served in the United States Army. He was a longtime member of Pickens Presbyterian Church. He loved his family dearly. Mr. Kreft retired from Champion Aviation back in 1998, and he loved taking his boys fishing. He loved being a handyman. Mr. Kreft was a man who loved a good joke. When he was a truck driver he would always say his CB handle was "Agitator," because he loved to always cut up.
Survivors include his two sons, Jon Orvil Kreft (Katherine) of Liberty and Ray Carl Kreft (Tami) of Portland, Ore.; six beautiful and loving grandchildren, Haley, Calleigh, Caroline, Matthew, Joshua and Lucas; and a sister, Alberta Klann from Hillman, Mich.
Mr. Kreft was predeceased by two brothers, Paul and Robert Kreft; and sisters, Amanda Dompke and Ann Karsten.
A visitation will be held at Dillard Funeral Home on Saturday, Sept. 19, from noon-1 p.m., with a chapel service being held at 1 p.m. Burial will follow at Hillcrest Memorial Park.
Dillard Funeral Home is assisting the Kreft family.
Online condolences may be sent to dillardfunerals.com.
SARA L. TROTTER
PICKENS — Sara Louise Trotter, 70, passed from this life on Sunday, Sept. 6, 2020.
Miss Trotter was born in Pickens County, a daughter of the late Ralph M. and Louise Conner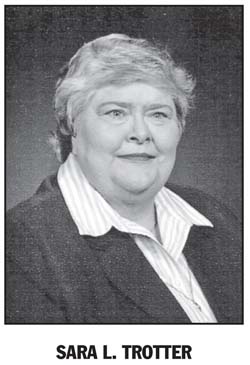 Trotter. She was retired from Carter and Crawley Inc. as an accountant and she was a member of Pickens First Baptist Church.
Sara had a heart for adventure. She loved traveling the country and sharing those experiences with others. She organized several charter bus tours, taking family and friends with her and making new friends along the way. Sara enjoyed country music and a good book. She was loved by her family, especially her nieces and nephews, who were fortunate to have called her "Aunt Sara."
Survivors include her sister, Iva Holcombe (Dwight); nieces and nephews, Karen Doty (Brian), Melissa Rampersad (Benny), Jason Holcombe (Lori), Jennifer McSweeney (T.J.) and Chad Trotter (Alanna); and a number of great-nieces and great-nephews.
In addition to her parents, Miss Trotter was preceded in death by brothers, Kenneth Trotter (Brenda) and Robert Trotter (Nancy).
Services will be conducted on Wednesday, Sept. 9, at 2 p.m. in the chapel of Dillard Funeral Home, with the Rev. Bryan Hester and the Rev. Scott Willis officiating. Burial will follow at Hillcrest Memorial Park.
A message of condolence may be expressed to the family by visiting dillardfunerals.com.
BARBARA CRISP
LIBERTY — Barbara Philemon Crisp, 66, died on Tuesday, Sept. 1, 2020, at her home surrounded by her loving family.
Born in Kannapolis, N.C., she was a daughter of Eugene Philemon and the late Beatrice Deese Privette.
She worked for many years at Easley Family Practice and was a member of Landmark Baptist Church.
Her life revolved around spending time with her family and getting them all together.
Surviving are her husband of 51 years, Charles Crisp of the home; a son, Daniel Crisp of Liberty; three daughters, Shelley Aiken of Easley, Stacey Campbell (Chad) of Pelzer and Shawna Owens of Liberty; 13 grandchildren; 10 great-granchildren; two brothers, Gary Philemon of Concord, N.C., and Danny Philemon of Concord, N.C.; and a sister, Brenda Benfield (Bobby) of Kannapolis, NC.
In addition to her mother, she was preceded in death by a son, David Crisp; a grandson, Noah Crisp; and a son-in-law, Josh Owens.
Funeral services to honor Barbara's life were conducted on Sept. 4 at Mt. Pisgah Baptist Church. Burial was at Golden Creek Baptist Church cemetery.
Flowers will be accepted, or memorials may be made to the Make A Wish Foundation by visiting wish.org.
Online Condolences may be sent to the family by visiting libertymortuary.com. Liberty Mortuary is handling arrangements.
BOBBIE RUTH MORRIS MCKINNEY
PICKENS — Mrs. Bobbie Ruth Morris McKinney, 85, went to be with her Lord and Savior on Saturday, Sept. 5, 2020.
Ms. McKinney was born in Pickens County and was the daughter of the late Robert Lee Morris and Rena Rowland Morris and wife to the late Harold Edward "Boots" McKinney.
Ms. McKinney loved her family and was in her happy place caring for them. She was an excellent cook. Family favorites were any of her many casseroles, banana pudding or her red velvet cake. The boys' favorite was her spaghetti. She was a member of Cannon Mountain Baptist Church and loved her Lord. Her hobby was her many flowers; she could grow any flower, but her favorites were her roses and daylilies. She loved her grand-dog Cooper.
Survivors include her sons, Michael McKinney (Gwen) of Easley, Victor H. McKinney of Pickens and Robert D. McKinney (Lisa) of Pickens; a brother, Troy Morris (Ruth) of Pickens; sister, "Tootsie" Hayes (Brandon) of Pickens; and a sister-in-law, Audrey Morris of Pickens. Also surviving are seven loving grandchildren, Chris, Daniel, Cameron, Brent, Madison, Jacob and Kenna; and three beautiful and precious great-grandchildren.
Ms. McKinney was predeceased by brothers, Ed Morris, Folger Morris, Curtis Morris and Dwaine Morris; and sisters, Viola Wright, Ruby Evett, Helen Pace and Diane Brown.
The funeral service will be held at Dillard Funeral Home on Wednesday, Sept. 9, at 11 a.m. A visitation will precede the service from 10-11 a.m.
Dillard Funeral Home is assisting the McKinney Family.
Online condolences may be sent to dillardfunerals.com.
INEZ DODSON STEWART
PICKENS — Inez Dodson Stewart, 84, wife of the late Johnnie Lee Stewart, passed away on Thursday, Sept. 3, 2020, at her home.
Mrs. Stewart was the daughter of the late Bessie Stewart Dodson and Deed Dodson.
A special thanks to a niece, Elaine Kelley, for taking care of Mrs. Stewart.
Survivors include one daughter, Angela "Angie" Stewart Galloway of Pickens; one son, Ricky Stewart (Sheila) of Liberty; one sister, Corene McCollum of Pickens; five grandchildren, Chad Stewart (Keri) of Liberty, Justin Hoover of Pickens, Kayla Adcox of Pickens, Casey Wayne Stewart of Florida and Jodi Lee Stewart of North Carolina; and seven great-grandchildren, Kinsley Stewart, Cambree Stewart, Gage Adcox, Garrett Adcox, Griffin Adcox, Crosby Payne and Emma Payne.
Funeral services were held Sept. 8 at Mountain View Funeral Home chapel, with burial following at Hillcrest Memorial Park and Gardens.
Mrs. Stewart was predeceased by her husband; parents; one son, Terry "Mule" Stewart; three sisters, Selma Owens, Ressie Riggins and Christine Gillespie; and five brothers, Frank Dodson, Dennis Dodson, Albert Dodson, Gene Dodson and Ralph Dodson.
Mountain View Funeral Home is serving the Stewart family.
EMMA JO EPPERSON SPIVEY
EASLEY — Ms. Emma Jo Epperson Spivey, 78, went home to heaven on Friday, Sept. 4, 2020.
Born on April 15, 1942, in Sylacauga, Ala., she was the daughter of the late Dwight Epperson and Kathryn Drake Epperson. Emma Jo retired from the Greenville County Commission on Alcohol and Drug Abuse. She was a wonderful seamstress and enjoyed being a homemaker. Her greatest love and pastime was to be with her family.
Surviving are her three children, Wade Spivey (Vickie) of Shelbyville, Tenn., Kathy Cartee (Benny) of Easley and Steven Spivey (Janet) of Pickens; one sister, Trudie "Bobbie" Oliver; two brothers, Bo Epperson (Shirley) and Jimmy Epperson (Susan); her treasures, six grandchildren, Bo Spivey, Ben Spivey, Nicole Chapman, Courtney Clemmons, Kincayde Spivey and Kerrigan Spivey; and four great-grandchildren, Lucas Spivey, Jake Spivey, Nolan Chapman and Lincoln Chapman; and one great-granddaughter, Emma Katherine Spivey.
Emma Jo was also preceded in death by her sister, Lynn Pearson.
A graveside service was held on Sept. 7 at Hillcrest Memorial Park.
In lieu of flowers, please make memorials to the Parkinson's Foundation, 200 SE 1st St., Suite 800, Miami, FL 33131 or Shriner's Hospitals for Children, 2900 Rocky Point Drive, Tampa, FL 33607.
Dillard Funeral Home is assisting the Spivey family in making arrangements.
DEAN PLUMLEY
EASLEY — Mr. Edward "Dean" Plumley, 72, husband of Paula Smith Davis Plumley, went to be with his Lord and Savior on Monday, Aug. 24, 2020.
Born in Tryon, N.C., a son of the late James Edward Plumley and the late Polly Alewine Plumley, Mr. Plumley was a graduate of Chapman High School and later received his associate degree from Spartanburg Junior College. He retired from Community Cash as a supervisor with 30 years of service and was a U.S. Marine Corps veteran.
Surviving, in addition to his wife of 17 years, are a daughter, Deana Plumley Fowler (Terry) of Inman; his wife's children, Mark Davis, Danielle Bajoit and Kellie Davis-Hall; two brothers, Gary Plumley (Debbie) and Rick Plumley (Linda), both of Inman; eight grandchildren and two great-grandchildren.
Memorial services were held on Sept. 5 at Rock Springs Baptist Church.
In lieu of flowers, memorials may be made to St. Jude Children's Research Hospital, P.O. Box 1000, Department 142, Memphis, TN 38148.
Visit robinsonfuneralhomes.com or Robinson Funeral Home and Crematory-Downtown, Easley.