Courier's Wright earns 4 awards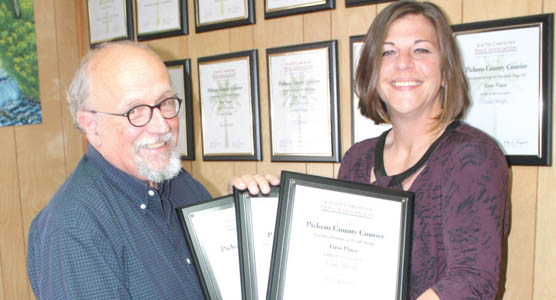 PICKENS — Pickens County Courier graphic artist Emily Wright recently picked up four awards in the South Carolina Press Association's annual Palmy Advertising Contest.
Wright's unique talent earned her three first-place awards and one third-place award.
Wright's entries were judged by press association members from other states around the nation. She was competing against all other newspapers in South Carolina.
Wright won first place for an ad she designed for Pace Jewelers of Greenville in the jewelry, florists and gift shops, under 8,500 circulation division.
"Clear winner in a very competitive category," judges said. "Understated elegance. Good use of color and graphics."
Wright won first place for an ad she designed for the Six Mile Farmers Market in the drug, beverage, specialty food or grocery ad in the under 8,500 circulation division. Judges said Wright's ad was "very eye catching … Makes reader want to go to the farmers market. The ad has great balance. I like the art on the outside drawing the eye to the information in the middle section."
Wright's final first place was earned for an ad she designed for Behavioral Health Services of Pickens County in the health services under 8,500 circulation division. Judges said, "clean looking ad. Message is direct and to the point."
Her lone third-place award was for work she did for Hot Wire Electrical/HVAC Specialists in the small space ad of less than 1/4 page.
"I am extremely proud of the work that Emily produces for our advertisers," Courier publisher Rocky Nimmons said. "We are a small, locally owned newspaper, but Emily's work takes a backseat to no paper, big or small, across South Carolina. She always produces the best possible work for each and every one of our customers."
Wright's work covered a wide range of categories in the contest. Her ability to convey customers' messages through print media in an innovative and personal way drives customers to local businesses.
"Emily does an awesome job," Courier advertising director Mignonne Matheson said. "I am so glad the South Carolina Press Association recognized her for her incredible work again this year."
Wright has been in the newspaper business since 2006 and was a founding member of the Courier's original staff when the paper was started in 2007. She has headed up the graphics department at the newspaper since the very first issue.
She has earned 84 statewide Palmy awards in her career. The Courier has won nearly 100 state adversting and editorial awards since it was established in 2007.
"It makes me feel really good that I have been able to earn these awards and the respect of my peers in the newspaper industry," Wright said. "I am so amazed that what started as doodles on birthday cards for my parents as a child has turned into such a way of life for me. Not many people can say they love what they do and make a career of it. I am glad our advertisers get noticed by the work I do for them. That is a wonderful feeling to know that in some small way I contribute to their success in Pickens County."