Curacao pummels New Jersey for Senior League World Series title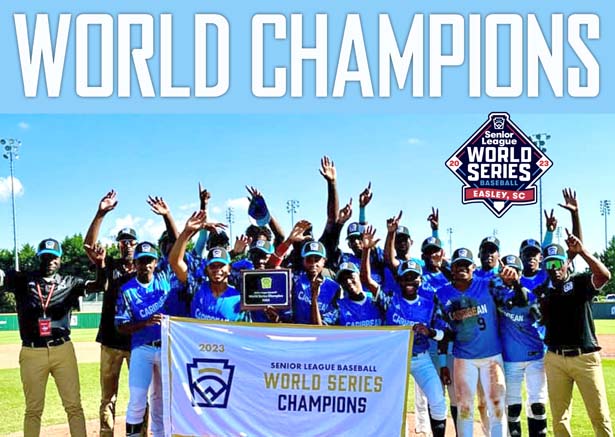 By Bru Nimmons
Sports Editor
bnimmons@thepccourier.com
EASLEY — After travelling over 1700 miles to Easley for the Senior League World Series, Pabao Little League of Willemstad, Curacao, came into Saturday's matchup with Cherry Hill Atlantic Little League of Cherry Hill, New Jersey, with a chance to bring the championship trophy back to their home country.
The Caribbean champion was able to do just that in dominant fashion, blasting Cherry Hill 14-1 in five innings to cap off an unbeaten run in Easley and secure the Senior League World Series championship.
From the start,  Pabao was able to take control with a leadoff single by Curly Martha followed by back to back walks from Jurdrick Profar and Deshando Trump. An error by Cherry Hill third baseman Zachary Salsbery allowed two of the base runners to score, before Clay Winklaar, Shendrion Martinus and Nathan Castillo all drove in runs to give the Caribbean champions a 5-0 advantage.
Having given up five runs without getting a single out, Cherry Hill pulled starting pitcher Aiden Ryder and replaced him with Andrew Bechtel. Bechtel was finally able to stop the bleeding for the East regional champions, but not before giving up two more runs to put Curacao ahead 7-0 in the first inning.
Kevin Rosina made quick work of Cherry Hill in the bottom of the first and the Caribbean champion went right back at New Jersey in the second. Profar and Peson Revierre each reached on singles before Bechtel was able to able pick up two outs. Still, Cherry Hill was unable to escape the inning unblemished as Martinus drove in Profar to increase the lead to 8-0.
In dire need of some run support, the Eastern champions looked to answer quickly with a lead-off walk from Tristan Perry and a single by Ryan Moyer. Rosina drew a double play to relieve some of the pressure, but Cherry Hill still managed to finally get on the board with a Brody Connors single to cut the lead to 8-1 after two innings.
Curacao refused to let Cherry Hill keep their momentum with a lead-off double by Gurshen Mogen and a single by Arsheneau Martina putting two runners into scoring position. Profar scored one on a sacrifice fly and Tromp brought home the other with double to left field before New Jersey was able to escape the inning, now trailing 10-1.
Rosina took the Eastern champions down in order in the bottom of the third and both teams struggled to gain traction in the fourth inning. However, the Caribbean champions returned to form in the batter's box to start the fifth inning.
A double from Martha followed by walks by Profar and Tromp loaded the bases for Curacao. Following a strikeout from Revierre, Winklaar delivered a two out single to center field to score Martha and Martinus drove in Profar and Tromp on a double to boost the lead to 14-1 heading to the bottom of the fifth.
From there, Rosina finished off his gem of a game to help Curacao secure the 14-1 Senior League World Series Championship win.