D.W. Daniel Lions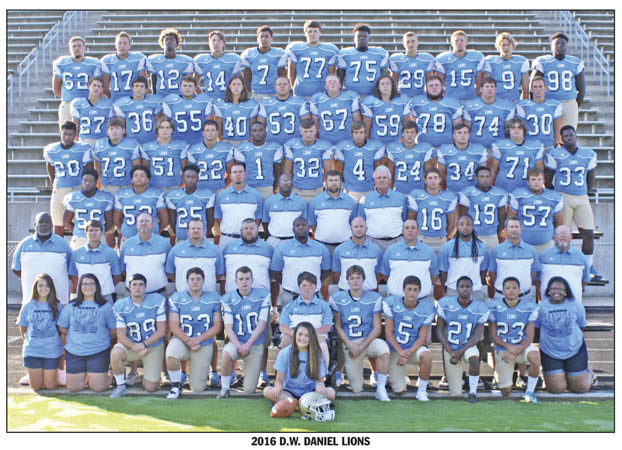 Tradition continues
After Robinson leaves, familiar face takes the reins at Daniel
By Rocky Nimmons
Publisher
rnimmons@thepccourier.com
CENTRAL — With this year's conference realignments, times are changing for almost every high school program in South Carolina, but at Daniel, the more things change, the more they stay the same.
After a disappointing season a year ago that saw the Lions post their first losing mark in nearly a decade, the normally stable Daniel program was shocked to see longtime head coach Randy Robinson step down to take the head coach position at Berkeley High in the Lowcountry. The move coupled with the latest S.C. High School League realignment that pushed the Lions to class 4A made it seem the landscape and culture of the Lion program was about to be turned on its ear.

Despite all the changes, though, came a strange calm, as administrators stepped up and stabilized the Lion program by passing the mantle of head coach to former Lion Jeff Fruster, who won a state title during his time in the blue and gold and served as defensive coordinator under Robinson.
The hire of Fruster meant the Daniel staff would remain almost entirely intact, and the Lions would not be forced to bear the burden of learning a new system under a new staff.
When the final classification realignment was decided, the Lions had indeed moved up to 4A. Several of their perennial rivals will also join them in what looks like a mini-Western 3A. The old Western 3A boasted eight teams, while the new Region I-4A has only five. But in those five are former region rivals Wren, Pickens and Belton-Honea Path, along with the Lions. Greenville, which also had stints in the Western 3A, will round out the new region.
The hire of Fruster was maybe the single most important decision in giving this group of Lions a legitimate chance at turning the events of the previous year around.
Fruster meant stability. Fruster meant tradition, and most of all Fruster meant that the head coach had lived the life, worn the golden helmet and had felt the pressure from the blue and gold sidelines. But most of all he had the respect that kept the Lions "all-in" with the tradition of greatness that is Daniel High School football.
"There is a lot that goes into the position," Fruster said recently. "I felt like I was shown the right direction, but there always going to be some things that you are going to encounter that are unexpected. There are some things that go on behind the scenes that you didn't know was going on.
"With that being said, I have encountered some hills, but no mountains thus far."
Fruster was lucky enough in his career both as a player and as a coach to work with two of the most successful head coaches in Daniel history in Allen Sitterle and Robinson.
"It has been big for me to have so much tutelage from both Allen Sitterle and Randy Robinson," Fruster said. "Daniel was successful before Sitterle, but it really took off when he got here. Randy came up under his regime, and that is kind of how he learned a lot of the facets that made him successful.
"I played under Sitterle and learned from him, and then I coached under Robinson as he did Sitterle, so it is almost like a progression. One learned from one and then one learned from the other. Hopefully that is something that will just continue on here at Daniel," Fruster said.
Fruster said getting the head coaching job was definitely a dream that he didn't know could come to fruition.
"Once I got into the program as a coach, I was all about making my position group the best," he said. "That naturally led to me wanting to be the best coach on the staff. Once I felt I was kind of accomplishing these goals of mine, being the head of a program was next. More than anything, I wanted to see the program stay within the family. I feel that is what the people in our community want to see. They want people they know care about their kids and understand their background."
The Lions will enter the 2016 season with only 14 seniors, but with several who started last season. The Lions' underclassmen, though, are a deep group with talent galore all around the field.
"I am always going to be high on the senior class," Fruster said. "Those are the guys you are going to have to lean on and the ones you put the most work into. Kids tend to follow other kids, so we place a lot of importance on our senior class. I feel as comfortable with this senior class as I have with any other that has come through Daniel. You have to understand when it is your first one, you tend to put a little more importance on them. I am pleased with them. They have shown a high level of dedication, good leadership and good work ethic."
Defensively, nose tackle Miles "Boogie" Turmon is the Lions' man in the middle. Turmon is a load to handle, and Daniel is glad to have him, Fruster said.
"The defense is going to kind of go as he goes," he said.
Daniel will also depend on senior wide receiver Will Swinney, son of Clemson head coach Dabo Swinney, to provide leadership.
"He will keep us on an even keel and see the things we need to be seeing," Fruster said.
Fruster said he is also interested to see the kind of year Malik Watts has at cornerback.
"He has had a lot of good quarters to pattern his behavior around over the past couple of years. I don't think we have ever had a run of players in the secondary that we have over the last several years," Fruster said.
The Lions will feature a true dual threat at quarterback in junior Ben Batson.
"You have a kid that can make just about every throw and can also improvise and make plays with his feet," Fruster said. "I think that is going to be the main thing you notice.
"Ben has come a long way. We always knew he was talented. We just tried to mold him to fit our system. This will be the first year you will get to see that showcase his talent with this being his junior year. Hopefully he will be able to be successful and stay healthy."
Fruster is excited about hte Lions' wide receiving corps.
"We have little group of skill position kids that I think will open up the offense," he said. "As an offense we always look to be balanced, but you will probably see more skill position kids on the field than normal."
Fruster's hiring allowed the staff to stay mostly intact after Robinson's departure.
"There were not many changes," he said. "There were a few that were shuffled around and saw their positions go up, and there were a few that we had to bring on."
With the elevation of Fruster and the departure of Robinson, the coaches calling the plays have changed. This season the Lions will feature dual offensive coordinators in Nathan Swords and former Lion Jamie Wilson. Fellow Daniel graduate Kirk Ellison will be the Lions' new defensive coordinator, taking Fruster's old spot on the staff.
Also joining the staff are Danny Burk, David Weathers and Blake Workman, who formerly coached at Blythewood, Broome and Anderson Christian, respectively. In addition, former Daniel Shrine Bowler Jerrodd Williams, who played in college at both Virginia Tech and Clemson, will be helping coach the secondary.
"I was fortunate enough to hire two really good teachers for the classroom, not just good football coaches, because I feel that is so very important," Fruster said. "We want good people around all our athletes, no matter the sport. We also have some really great volunteers. I always want to be a proponent of Daniel kids coming back to Daniel to help out."
The Lions' schedule is ripe with old foes and some new opponents. First up in week zero will be new foe Berkeley High School, which will be coming to Singleton Field with Randy Robinson at the helm.
"I would not want to place too much on that being a big game," Fruster said. "It will be a chance to catch up. It will be good to share a conversation about how our paths have changed these past couple of months.
"As far as my team is concerned, Berkley is just the first opponent we will face. There is no revenge there. Coach Robinson made a decision that was best for him and his family, and I thank Daniel for making the decision that was best for me and my family. There is no bad blood. We just hope it will be a highly competitive game that everybody comes out to watch."
When Region I-4A play finally starts in week six, the Lions will have to be ready to play.
"We missed 3A by three students. It kind of reminds me of when Daniel was really a 2A school and chose to play up to 3A, because they were aggressive and could compete at that higher level," Fruster said. "Even though this time we did not choose to compete at the higher level, I think in the long run that is going to help us. 4A is going to be packed with all the horses, and that is who you want to play against so you can see what kind of team you've got."
But the opponents will be no strangers to the Columbia Blue and Gold.
"Wren has been a great opponent for us. We have had our run-ins with Greenville in the past, and it is no secret that probably in the last 20 years it has been us or Belton-Honea Path as far as region winners. When you think about continued success you have to think about the Bears and the Lions. As long as we stay associated with BHP, we are going to be OK," Fruster said.
Each of the region matchups seems to be an old rivalry for hte Lions.
"I am starting to think we are everybody's rival. I don't know if that is good or bad," Fruster said. "But I guarantee you Daniel is a game other teams circle on their calendar. I have heard that on numerous occasions. We take the one-game-at-a-time approach. I don't want the kids to view any one game as more important that another. In my mind, you've got to try to win them all.
"Regionally, Pickens is so close to Six Mile that I can see how there is some competiveness. That is no different than what it is like with Seneca for our Clemson kids. The more rivals, the better."
The outlook for this year's squad is the challenge to let the memories of last year's losing campaign fade and focus on the future.
"I can't say the team has forgotten, but I do know me and my staff have not forgotten, Fruster said. "I will say it is not something we harp on. Each individual class has their own characteristics. The last thing we want to do is hold the next class accountable for what the last class did. We do a fairly good job of taking the next game approach or the next season approach.
"It is something as a coach you never want to have — a losing season. There were a lot of factors that went into why last season turned out the way it did. I think a lot of those factors will not be present this year. I think morale is real high, and the kids are excited about the change, so it is something that we as team will try to ensure doesn't happen again."
Fruster said this team differs from teams of the past that featured standout players you couldn't miss.
The Lions have shifted into a group of good athletes who play great together, Fruster said, adding this season they will not necessarily have a single go-to guy to get them out of a jam. The coaches have let a number of guys shoulder the load and are not putting a lot of pressure on any one athlete.
Defensively, Daniel will feature a good mix of size and speed on the field.
"When we need a high mix of skill people we will have that, and when we need big bodies to plugs holes we will have that, too," Fruster said. "I think this defensive unit will be comparable to any defense I have ever coached here. At Daniel, that is what we pride ourselves on. We want to stop people. That is something that will continue to get preached to this defense."
Fruster said the strengths of his team in 2016 will be enthusiasm, work ethic and attention to detail.
"I am pleased that these kids try to do the little thing right," he said. "Our weaknesses are overall athleticism and a little bit of experience. We have good kids, but some have not proved it at the varsity level.
"We hope to surprise a few people with our size. Our offensive line, on average, will be quite larger than what we have seen in the recent past. We have always had one or two, but this year we have could have six or seven. Controlling the line of scrimmage is huge. We want to control the trenches."
Fruster is also looking for some special plays from sophomore running back Kiandre Sims, who he said does a good job catching out of the backfield.
"I would keep my eye on him as the season progresses," he said.
Fruster also boasted about the incredible fan support the Lion faithful always bring.
"I think it is huge to get the fans to come out and support the kids," he said. "If we have our fans in the stands, it makes it rough on the other team. I hope our fans understand the impact they have on the game. The fans showing up on Friday night may be the difference in winning and losing. We encourage our fans to come out and whoop and holler and create a tough atmosphere for the opposing team."
The season starts this Friday night, when Robinson and the Stags visit Singleton Field. Kickoff is set for 7:30 p.m.