Daniel cruises past Red Devils in shutout to open season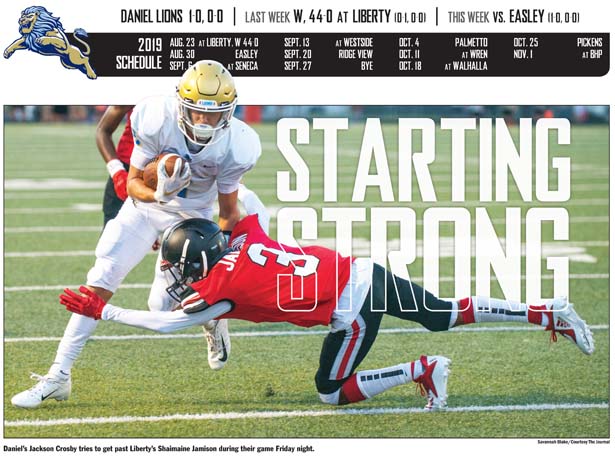 By Bru Nimmons
Staff Reporter
bnimmons@thepccourier.com
CENTRAL — The 2019 football season is officially underway, and for the Daniel Lions, it began with more of the same dominance they showed last season in a 44-0 shellacking of the Liberty Red Devils on Friday.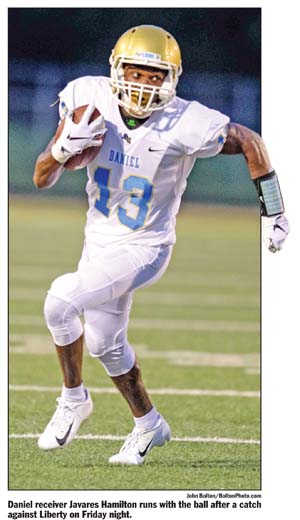 "More than anything, I wanted to see us get off the bus," Daniel coach
Jeff Fruster said. "I don't think we got off the bus last week against Brookland-Cayce (at the Easley Green Wave Jamboree) and there were a lot of problems to be fixed. It was very important for me to see this team come out ready to play, and I thought they did a good job of that."
Offensively, the Lions saw an impressive performance from junior tailback Jordan Grayden in his first start. Grayden scored the first two touchdowns of the contest and was overcome with emotion after the game.
"Man, this feels wonderful," Grayden said. "I can't explain how good this feels after the hard work this summer. This is all part of God's plan."
"Jordan has been really good for us this offseason," Fruster added. "He's always ready to go when called on, and that's one of his most endearing qualities."
Meanwhile, on the defensive side of the ball, Daniel snuffed out any and every chance the Red Devils had, shutting Liberty out while giving up less than a yard per carry to the run-dominant Red Devils.
"This was very reminiscent of last year," Fruster said of his team's defensive efforts. "The kids love to achieve milestones, and anytime you can keep an opponent from scoring, that just puts a testament to the work they've put in on being good on defense."
The Lions received the opening
You must be logged in to view this content.
Subscribe Today or Login