Daniel gets crucial region win over Pendleton in extra innings
By Bru Nimmons
Staff Reporter
bnimmons@thepccourier.com
CENTRAL — Down 4-3 with two outs in the 10th inning, Daniel High School freshman Aubrey Hedlund-Hoover stepped to the plate knowing she had to at least drive in Ally Grace Batson if the Lions' softball team hoped to stay alive against Pendleton last week.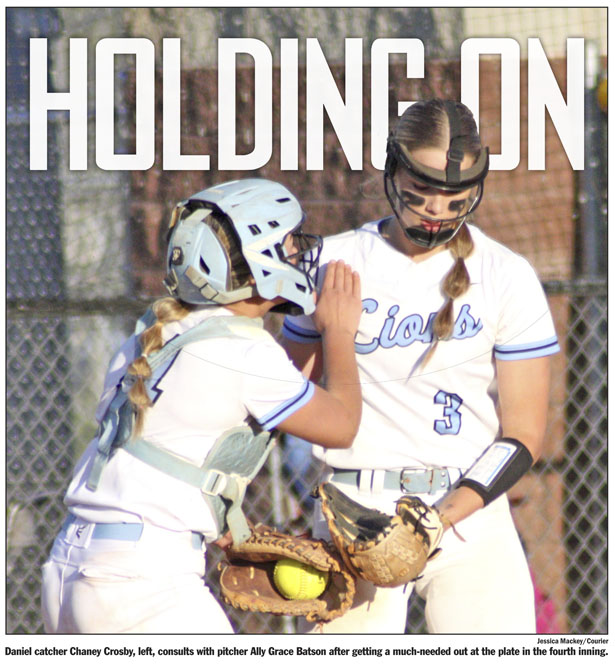 "I was trying not to swing at really bad pitches," Hedlund-Hoover joked. "I wanted a base hit to make everyone proud."
Hedlund-Hoover more than delivered, knocking a bloop single to right field that not only scored Batson, but brought Kurtlyn Alexander home from first after an error by Pendleton's Addison Wilson to give Daniel a 5-4 comeback win on April 11.
Filling in for senior shortstop Kinsley Dunn, Hedlund-Hoover was admittedly nervous going into the game, but she impressed Daniel head coach Cora Downer with her play both in the field and the batter's box.
"Kinsley's been my senior leader and lead-off batter," Downer said. "Aubrey had to come in and play short and bat, which she hadn't done all year. She stepped up and she won us the game."
The freshman wasn't the only standout for Daniel, as Batson went the distance in the circle in the 10-inning contest, overcoming a tough first inning to strike out 14.
After facing an early deficit, Daniel worked to get back into the action starting with a sacrifice fly from Maddie Iams in the second to cut the lead to 2-1.
The Lions faced trouble again in the fourth as Pendleton loaded the bases with no outs. However, Batson masterfully worked her way out of the jam to keep Daniel in it.
"She 100 percent kept us in the game," Downer said. "I expect nothing less from that kid."
The Lions finally tied things up in the fifth on an RBI single from Alexander before the two teams' bats went dry over the final two innings of regulation.
In extra innings, neither side was willing to give an inch, matching the other at every step, including one-run ninth innings from both sides.
An RBI double from Pendleton's Ella Bryant gave the Bulldogs the advantage in the 10th, but the Lions were able to get runners on the corner with one out in their chance at the bat.
Batter interference on a bunt from Reese Livingston stunned the Lions before Hedlund-Hoover proved to be the hero in the 5-4 win.
The win put Daniel (7-3, 5-3 Western 3A) in prime position for a home playoff game with less than a two weeks left in the regular season.
"We're sitting well," Downer said. "If we win out, I love our chances."
Daniel 5, Pendleton 4
PHS 200 000 001 1 4 9 1
DWD 010 010 001 2 5 7 1
WP: Batson, 10 IP, 2R, 8H, 14K
LP: Wright, 9.2 IP, 3R, 6H, 6BB, 6K
DWD — Hedlund-Hoover 3-4, RBI, BB; Alexander 1-3, RBI, 2 BB, 2 R
PHS — Jennings 3-5, 2B, RBI; Beak 2-4, 2 RBI