Daniel girls drop Razors
By Bru Nimmons
Staff Reporter
bnimmons@thepccourier.com
CENTRAL — After needing a second-half comeback to take down Walhalla a little more than a week ago, the Daniel High School girls' soccer team entered Monday's game against the Razorbacks with a renewed sense of focus.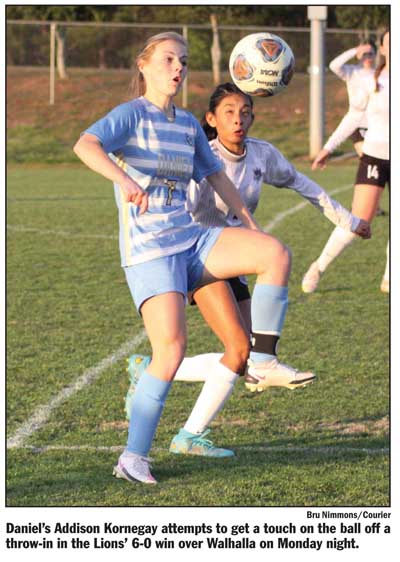 That focus showed throughout the night as they dominated Walhalla (2-3-1, 0-2 Western 3A) from start to finish in a 6-0 home win.
"We've talked a lot about possessing the ball and playing together," Daniel head coach Chad Perry said. "We did it well tonight by taking the ball down the wings and getting some crosses in. I think it's all starting to click for the team."
The Lions' cohesion was on full display in the play of sophomore Gibson Yoder and junior Addison
You must be logged in to view this content.
Subscribe Today or Login