Daniel girls sign to play in college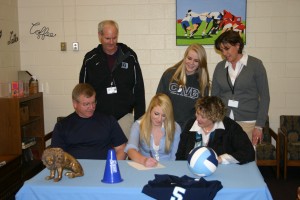 CENTRAL — Two Daniel High senior athletes inked letters of intent last Thursday to carry their games on to the next level.
Lady Lion volleyball star Sarah Hughey, the Western AAA player of the year in the fall as well as an all-state selection, signed to play at the University of West Florida next season. Hughey said she had wanted to play in college for as long as she could remember, and the opportunity to do so in Florida was one she could not pass up.
"I looked at a few other schools, but not really seriously," she said. "That was the first one I seriously looked at it, and I loved it."
Following Hughey at the signing table was Daniel softball standout Hannah Gaines, who inked with USC-Salkehatchie. Gaines, who will be a senior leader on this year's Lion team trying to build on last year's District Championship, said she is glad to have her college decision out of the way so she can get down to business on the 2011 season.
"All the pressure is gone and the hard work paid off," Gaines said.